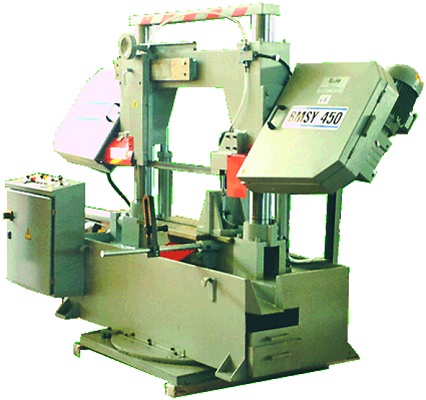 The saw of semi-automatic strip model BMSY of Aragonese Technicians Salazar is of double column and is indicated for cuttings to 90 and 45°.
The guided of the frame is in two columns of steel treated and rectified. It is of solid and robust construction with frame sobredimensionado. The movement of the arch bases in hydraulics cylinder and has system of progressive advance. The guided of strip is with threads and plates of hard metal.
It incorporates a cleansing brush of shavings in the strip and tighten hydraulics of the mordaza. The speed of the strip is with hydraulics variator without escalonamientos of 20 to 100 m/min. Has system of automatic elevation of the arch finalised the cut with final of career regulable. It has of investor of twist of the strip and basic table giratoria for cuttings to 45°.
It integrates tope leading milimetrado of 500 mm, table of entrance of material of 1 m with rollers and system of unemployment of emergency. It fulfils strictly with the rule of hygiene of the CE.
Company
: Técnicas Aragonesas Salazar, S.A.