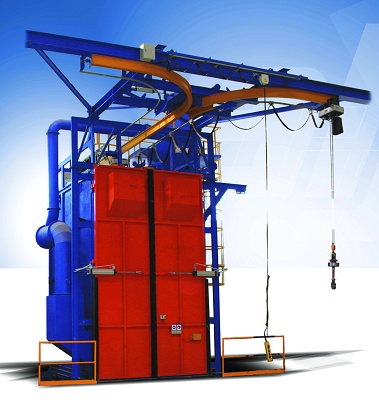 The granalladoras of load suspended are those in which parts are cleaned hanging on hooks, either one by one or forming clusters that are exposed to the action of the turbines. Within this description will encompass a wide range of facilities whose main characteristic is the versatility both piece sizes and configurations that can be reached.
All the cabins of blasting where the hooks are placed are entirely built in anti-corrosion steel and reinforced in the areas of direct impact of the shot with replaceable parts of the same material.
The granalladoras of standard hook are all those which loads suspended on a hook into the cabin of blasting. In this way it is possible to isolate the area of blasting. These granalladoras are adapted to the space needs of the client, allowing different configurations of developing air summons.
On the other hand, the special load granalladoras are for applications in which we have to adapt their design to parts of the client. In some cases they are used in continuous processes typically interconnected with other installations of paint or finish. The advantage is that once hanging pieces in the hooks is not necessary handling.