This news article was originally written in Spanish. It has been automatically translated for your convenience. Reasonable efforts have been made to provide an accurate translation, however, no automated translation is perfect nor is it intended to replace a human translator. The original article in Spanish can be viewed at
Taladrado, perforado y amolado de la mano de Fein Power Tools
The Spanish subsidiary of the German brand introduced new features during the BIEMH 2010
Drilling, drilled and amolado hand in hand with Fein Power Tools
Drafting Interempresas
30/06/2010
Fein Power Tools Iberian
, a Spanish subsidiary of C. & e. Fein GmbH, manufacturer of professional electric tools, took advantage of the biennial to publicize some of their latest developments including the new unit of drilling with crowns automatic with digitally-controlled drilling progresstwo new drilling units with mobile crowns for a capacity for up to 80 mm and portable high-frequency converters. In addition, the inventor of the first portable electric drill in the world, presented in the BEC its new drills.
During the event were presented three new BOP series drills, suitable for drilling, countersinking and Threading. They have been designed to work in metal, wood, plastic and composite materials and for use in metal constructions, construction of machinery and steel constructions as well as to work indoors or in car repair.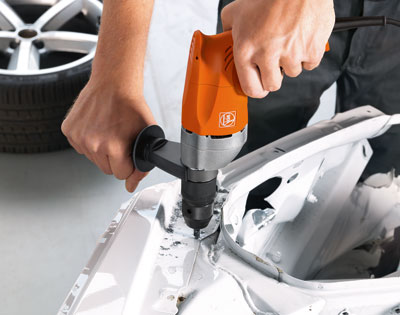 New generation of drills.
Two new units of drilling with crowns for a capacity of up to 80 mm
Also presented two new units of drilling with efficient and precise crowns up to 80 mm in diameter: the Fein KBM 80 U with manually operated and the Fein KBM 80 car with the first fully automatic drilling advance digitally controlled. This guarantees a constant drilling time and saves time and costs with large volumes of drilling. It also offers more safety at work, because it is not necessary to manually intervene in the drilling process. New drilling with crowns Fein units cover all kinds of applications, such as drilling with crowns, the drilling with cylindrical drill, the screw, the countersunk and the excavation, and are used in metal constructions, steel, bridges, machinery, boats or tanks.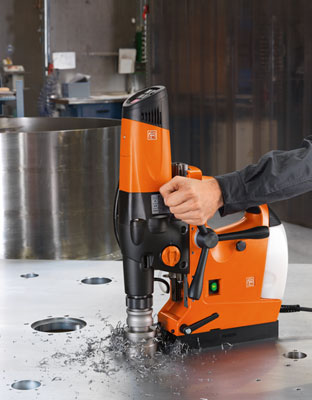 During the BIEMH, Fein presented two new units of drilling with efficient and precise crowns up to 80 mm in diameter.
Industrial grinding of high-frequency: mobile and powerful
Also, the company has expanded its programme of high-frequency with the two portable high frequency converters mobile Fein, the 17-300 HFS and HFS 27-300. These allow use high frequency grinders in jobs not connected to a network of high frequency. Even at the site of the work or in small workshops, only need a 230 volt power outlet.
Mobile portable high frequency converters.
The angular grinders and straight grinders of high frequency Fein achieves a performance of considerably higher cutting than with the machines of normal frequency and pneumatic tools. They are particularly suitable for continuous applications in metal buildings and steel, construction of deposits, in foundries or naval construction.
Related Companies or Entities
Fein Power Tools Ibérica, S.L.U.