The Irta project has received 23 new products, twelve patents and five utility models, among other achievements
The Futural project presents good results in technologies applied to food products
July 06, 2011
The
Irta
, the Agency of the Department of agriculture, livestock, fisheries, food and means Rural nature of the Generalitat de Catalunya that during the past four years has carried the
Futural project
, has brought together 24 companies and 12 research from seven different autonomous organizations. After four years of work are already know some results, which we discover in the next article.
Within the framework of the facilities of Ifema, Feria de Madrid, was carried out on 28 June the introduction of Futural draft. Mireia Molins, technical researcher of Irta and coordinator of Futural, explained that "his mission is to lay the foundations for the use of new technologies in food production and we wanted to adapt to the changing needs of consumption". The project had a budget of EUR 20,63 million, of which, the Ministry of science and innovation funded 9 million euros (44,19%) through the Cenit program, of the Center for technological development and Industrial (CDTI).
One of the challenges posed by the Futural Cenit programme, commented Molins, was that he intended to "have an investment and a considerable effort on the staff of firms engaged in r & d, but also technological institutes and research organizations to participate in cooperation." Futural has been a success in this regard because we have largely met standards established at the time. "We are above 33% in collaboration with organizations and staff have considerable weight."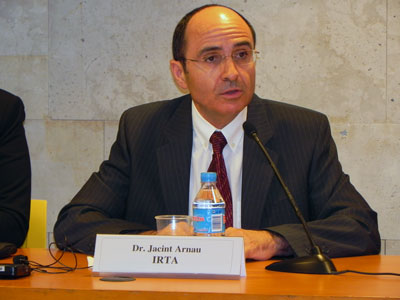 Jacint Arnau, scientific director of Futural, during the press conference.
A project with good outcome
As to the results, Molins said that "Futural has launched 23 new products on the market, it career already has 12 patents, five models of utility, 33 scientific publications, two doctoral theses, thirteen new processes, six new services and eleven companies of the Consortium contend that they have integrated new technologies". We know that we have already participated in more than 55 events. "In terms of employment and training, in times of crisis Futural has participated in the creation of 25 jobs, of which 74% are permanent contracts".
"As for the impact - explained Mireia Molins - almost the majority of the companies (87%) have stated that they have improved their capacity to innovate, more than half (57%) says that you allowed them access to new technological networks". The Coordinator of Futural also explained that is "detected 26 new projects arising from this, six of which have already been approved".
Inter-firm cooperation was also an interesting part of this study result that 87% of them worked together in other areas outside Futural and "83% has collaborated with research organizations, which had not done before, and which has allowed them to the connection with other initiatives". In addition, "22% participates in framework programme projects, 40 per cent do so in international projects, more than one third is displayed as the leader of a European project and 91% of IO of the Consortium are already working and leading European and international projects."
Applications of supercritical fluids
But the Futural project has contributed, as we have said, many applications and new processes, which were explained by the scientific director Jacint Arnau, who began her speech talking about "new applications of supercritical fluids in the food industry". This is a specific use of CO2 in its liquid form, "is a solvent that has a great capacity of extraction, but in contrast to organic solvents, has an advantage, which disappears under normal atmospheric conditions".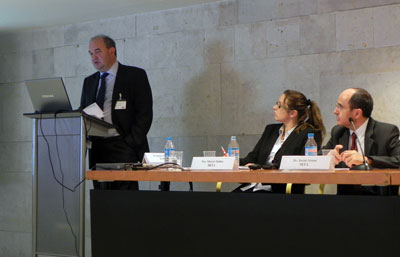 Mireia Molins and Jacint Arnau hear Andrew Hernando de NC Hyperbaric presentation.
It is therefore a very clean technology uses "to extract substances of great added value". This means that they have isolated some substances has, according to Arnau, "a very promising future because it's natural products". Jacint Arnau also explained the developments in the development of new packaging systems. Of which highlighted two types: "One, a specific case in the area of fisheries, which have developed new systems and packaging".
The overall objective of the Futural project has been the lay the scientific groundwork for industrial technologies in food processing
It's active packaging that has been isolated "an active substance with high antioxidant and antimicrobial ability from the brewing industry and this substance has been included in the films to exercise these functions". In this way, is intended to revitalize "a by-product of a food industry" to be an application of great added value. For example, if we pack meat with this type of packaging, it produces an effect that "extends the useful life, performs an antioxidant action, stabilizes the color, avoids the ranciamiento and slows the growth of many microorganisms".
Other items submitted by Jacint Arnau, were the replacement of the conventional heat treatment by transfer of heat by the of high frequencies (internal heat generation); the application of the high pressures in various products as seafood (oysters, crawfish, lobsters...) as a reality already on the market; and finally the development of the QDS, a revolutionary process of secado-curado of sliced sausage that has revolutionized the global industry.
Four satisfied customers
After the presentation of Jacint Arnau, four companies that have formed part of the project made brief presentations on the objectives achieved in their participation. Andrés Hernando de NC Hyperbaric explained that "we have doubled our sales in 2010 because our technology was different". He also stressed the role of your company in the project of development and manufacturing of a prototype of high ultrarrápidas pressure, the characterization of the processing and high pressure normal (PA) of different food matrices.
Montserrat Rivero, Laboratorios Ordesa, stressed that you for your company, it has been the increased investment in r & d project: 2.4 billion euros and a spring of growth of investment in r & d (35%), assuming an excellent test bed for its new pilot plant Irta-Ordesa. For its part, Jaume Juher, Innoducky, told attendees their work and experiences in the implementation of the high pressures in products derived from the foie with collection of a series of highly competitive products in the high-end products segment.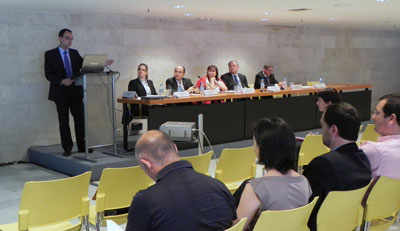 Benet Fité, head of r & d group Mahou-San Miguel, presented the Futural results during the last four years.
Juher acknowledged that "innovation for small business is possible, difficult, but possible". He continued stressing the importance of innovation stating that "investing in r & d we have stopped the decline in sales and we have managed to reach other countries". Finally, Benet Fité, head of r & d group Mahou-San Miguel, made the presentation of a compound based on polyphenols, obtained from residual currents in the classic process of brewing, which is characterized by its properties to extend the shelf life of packaged products.
The project has developed a process of extraction of these polyphenols with antioxidant, antimicrobial and thermostable properties, which are incorporated into the active packaging through the use of nanoarcillas and that they have been applied successfully for the preservation of beef packaged. In this way we have been able to give value to a byproduct generated by our brewing business, said Benet Fité.