This news article was originally written in Spanish. It has been automatically translated for your convenience. Reasonable efforts have been made to provide an accurate translation, however, no automated translation is perfect nor is it intended to replace a human translator. The original article in Spanish can be viewed at
Supermercados Cemar firma una alianza estratégica con la cooperativa Covirán
Supermarkets Cemar signs a strategic alliance with the cooperative Covirán
20 February 2012
It teachs it lucense Cemar, with more than 40 years of career, integrates his establishments under the umbrella of the chain Covirán. The first, has 35 points of sale delivered in the provinces of Lugo and A Coruña. With this adhesion, the chain of Galician supermarkets goes up to the car of a solid company like Covirán, something that will allow him increase his competitiveness and work under the protect of this mark with more than 50 years of activity.
The origin lucense of Supermarkets Cemar, does that this company follow, also now, conserving his philosophy of work and his bet by the local products, the ones of the earth, being faithful to the essence promulgada to date.
The model cooperativista that offers Covirán to his partners, allows them keep those values and attributes by which are recognised in his zone. This flexibility makes possible that they conserve his signals of identity and benefit , at the same time, of a wide fan of services as well as a powerful own mark, so as to endow to his partners of all the necessary tools for rentabilizar his businesses.
This new incorporation, supposes for Covirán a step more in his strategy of expansion in Galicia, being at present 140 the supermarkets that each day open his doors in this territory. Nowadays, it teachs it sum a total of 2.879 points of sale, in Spain and Portugal.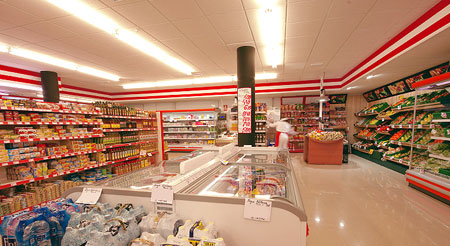 Inner sight of one of the establishments Cemar, from now, under the mark Covirán.