This news article was originally written in Spanish. It has been automatically translated for your convenience. Reasonable efforts have been made to provide an accurate translation, however, no automated translation is perfect nor is it intended to replace a human translator. The original article in Spanish can be viewed at
La I.G.P. lechazo de Castilla y León multiplica por 2,4 la producción de carne
The I.G.P. lechazo of Castile and Leon multiplies by 2,4 the production of meat
13 February 2012
The Official Bulletin of Castile and Leon has published today, 13 February, the order by which approves the regulation of the Geographic Indication Protected Lechazo of Castile and Leon. This redundará in a potential elder of commercialisation of meat of lechazo, above the 1,75 million copies protected under the mark of the I.G.P. During the past exercise, sacrificed 736.000 animals, under the tutela of two marks of quality, that convivían up to now –I.G.P. Lechazo of Castile and Leon, and the collective mark Lechazo of the Leonese Spanish Plateau–.
According to sources of the Council of Agriculture, the fold of conditions of the I.G.P. includes like novelty, the consider  product protected, in addition to the channels of lechazo of the Spanish races, churra and ojalada already protected, the channels of lechazo pure of race assaf Spanish and his crosses with the previous, whenever they proceed of livestocks in diet of production extensivo, semiextensivo and semiintensivo.
During the last 20 years, the cabin grazier of ovino regional has happened to be formed basically by animals of races rústicas of little productive specialisation and low number of heads by herd to the predominance of skilled races in production of milk like the assaf.
In virtue of this, from the Regulatory Council of the I.G.P. promoted the modification of the Regulation, once realised the pertinent technical studies, to take advantage of similar potential.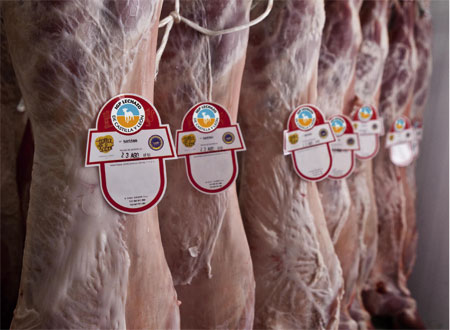 Photo: www.lechazodecastillayleon.es
Like consequence of the greater number of lechazos protected by the I.G.P., will multiply by 2,4 the productive potential of meat of quality of lechazo of Castile and Leon. Of here, it will generate an encarecimiento of the prices in origin what will allow to the graziers rentabilizar his exploitations. Equally, the modification in the Regulation will speed up the access of the new livestocks inscribed to the helps of direct payments contemplated in the PAC for the improvement of the quality of the productions of ovino and goat milking rooms.
Another advantage will be the extension of the geographic area of production until covering all the Community of Castile and Leon, what will give gone in to zones cerealistas of the province of Soria previously excluded.
Finally, the modification approved by the I.G.P. will make possible that the final consumer have of greater guarantee about that that consumes, since it will enter an identification detailed of the origin of the lechazo.