This news article was originally written in Spanish. It has been automatically translated for your convenience. Reasonable efforts have been made to provide an accurate translation, however, no automated translation is perfect nor is it intended to replace a human translator. The original article in Spanish can be viewed at
La marca Covirán muy presente en España y Portugal
The mark Covirán very present in Spain and Portugal
29 December 2011
The assortment in Covirán is composed roughly by 6.000 references and of them 23,33% correspond to the mark Covirán. The balance of these products comes marked by the preferences of the consumer. The availability of these products beside the marks of the manufacturer conforms a portfolio balanced and allows to optimise the familiar economy. The Portuguese assortment integrate it the basic products that coincide with the general assortment and besides the products that the Portuguese customers consume usually like rices and specific sodas.
The Spanish assortment with 1.043 references is indispensable in the supermarkets Covirán. This year 2011 it has integrated, amongst other, the cool cheese, the loncheados Iberian and the infusions of functional type, that in addition to having the beneficial effects of this type of products, enjoy of a cool and innovative design.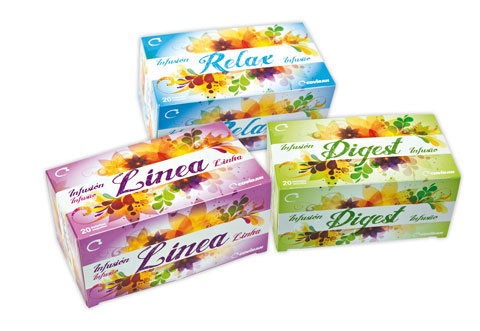 Covirán Has included this year, amongst other products, the infusions in his catalogue of own mark.
Speaking of designs, during this year has reestilizado 280 references to do them more attractive. A year more Covirán updates also and publishes in the official list FACE (Federation of Associations of Celíacos of Spain) the products marks Covirán apt for celíacos. From 1 January they are 106 products those that do not contain gluten between his ingredients and that fulfil with the clear-cut standards by FACE.
In addition to these products, Covirán explains in his assortment with the designated green products, at present 326 foods that in his natural state do not contain gluten and, therefore, also can be consumed of safe way by the Celiacos.