This news article was originally written in Spanish. It has been automatically translated for your convenience. Reasonable efforts have been made to provide an accurate translation, however, no automated translation is perfect nor is it intended to replace a human translator. The original article in Spanish can be viewed at
Interempresas presenta la versión 2.0 de su App para iPhone y Android
Interempresas Presents the version 2.0 of his App for iPhone and Android
19 April 2012
Interempresas presents simultaneously, for iPhone and Android, the version 2.0 of his App free, that allows to locate technical information of products and inmuebles industrial commercialised in Spain, so much new as of occasion, and  show the data of contact of his respective providers. Of this form, to this information on the novelties of the market adds the one of second-hand equipment of the App that Interempresas already launched for the platforms iPhone and Android and that have worked successfully from his creation. Now, the App will allow to find simultaneously so much machinery and new equipment as of occasion, as well as offers of inmuebles industrial.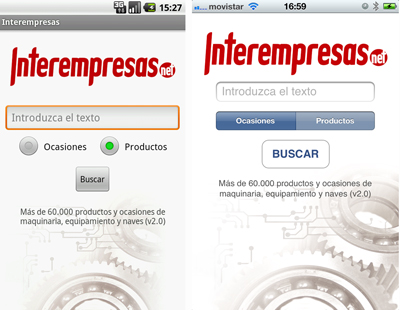 Start of the App, in which it can select so much the products and inmuebles commercialised in Spain as well as the ones of occasion.
Simple and intuitive, both applications can download gratuitamente in the Apple Store, for the terminal iPhone and in Android Market, for the platforms Android. Of this form, the user will be able to access to more than 60.000 products of 16.000 companies with so only realise a research in his smartphone.
The wide database includes products of sectors like the metalmecánico, graphic arts, agriculture, feeding, hospitality industry, plastic, chemical, construction and public works, wood, logistical, industrial vehicles, and until 24 industrial fields more.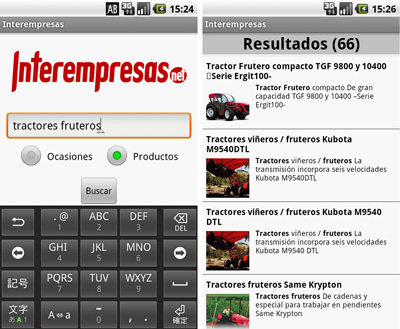 Introduction of parameters of research and results.
The information that obtains when realising the research is detailed: characteristics of the machine, product or service as well as the data of contact of the provider.
Interempresas launched the past month of March of 2011 the application for iPhone and, the past month of January of 2012, for Android, in what it is a step more than the publisher with the new technologies and in offering an integral service to our customers.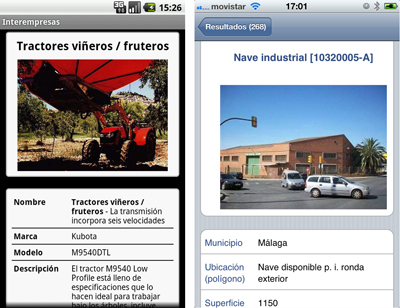 Typology of product, mark, model and technical characteristics.
The current application has downloaded more than 3.500 times in version iPhone/iPad and more than 350 occasions in the version for Android. they are visualising Through the same 8.000 products and inmuebles of occasion to the month, according to data of the year 2012.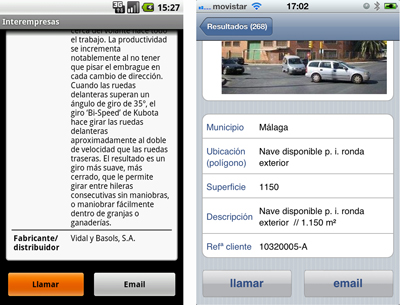 The App allows to call directly, or send an and-couriers, to the provider of each product and inmueble.
To download the application:
App Interempresas 2.0 for iOS (iPhone/iPad/iPod touch) in the App Store of Apple
App Interempresas 2.0 for Android in Google Play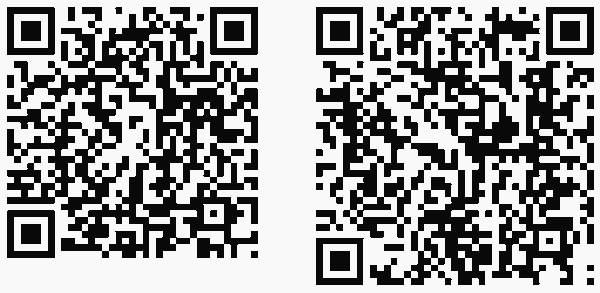 QRs For the download of the App for iOS (left) and Android (right)
Related Companies or Entities
Interempresas Media, S.L.U.