This news article was originally written in Spanish. It has been automatically translated for your convenience. Reasonable efforts have been made to provide an accurate translation, however, no automated translation is perfect nor is it intended to replace a human translator. The original article in Spanish can be viewed at
Fedemco organiza el 63 Congreso de la FEFPEB
Fedemco Organises the 63 Congress of the FEFPEB
29 June 2012
Organised by
Fedemco
and Faproma, under the lemma 'Transport with Wood. Natural packaging', Valencia will receive of the 3 to 5 October 2012 the annual meeting of the European industry of the palé, packaging and wooden container. The congress of Valencia, through a program of visits, conferences and events, as it can see in his web
www.fefpebcongress2012.es
, will allow the debate on the challenges and opportunities of the industry. On the one hand, the participants will have the opportunity to visit four leading organisations: the Port of Valencia, and the factories Aglolak (pallets wooden), Catenva (board plywood) and Serraenvàs (wooden light container).
On the other hand, inside the session of conferences, with translation in Spanish, English, French and German, are planned presentations to charge of representatives of: FAO (United Nations), DG Sanco (European Commission), Agra CEAS Consult. (Brussels), Wood Packaging Solutions (Canada), Consortium EMABois (France), Pfeizer Timber (Germany), FEFPEB, and of professionals with international projection; the Ministry of Agriculture, PEFC, Pöyry, Sarrimad, Idom, Anecoop, etc.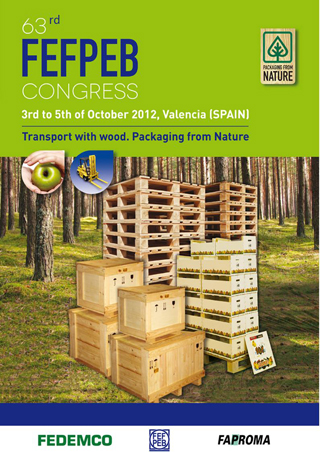 The speakers will cover the following subjects: Sustainable Forestry Management; Trade and wooden supply, Vegetal Health; Rule NIMF-15 and technology of dried; Logistics and distribution; Design by computer; alimentary hygiene; Marketing; etc.
Related Companies or Entities
Asociación de fabricantes de paletas y productos de madera para la manutención
Federación Española del Envase de Madera y sus Componentes