This news article was originally written in Spanish. It has been automatically translated for your convenience. Reasonable efforts have been made to provide an accurate translation, however, no automated translation is perfect nor is it intended to replace a human translator. The original article in Spanish can be viewed at
Gas Natural Fenosa y Conaif renuevan un año más su acuerdo de colaboración
Natural gas Fenosa and Conaif renew a year more his agreement of collaboration
27 February 2012
The president of the National Confederation of Associations of Companies of Plumbery, gas, Heating, Air conditioning, Electricity and Affine (Conaif), Esteban White Serrano, and the director of distribution of gas of Natural gas Fenosa, José María Gil Aizpuru, renewed, by second consecutive year, the agreement mark of collaboration to improve the learning of the companies installers of Spanish gas. In the signature of the agreement also was present the speaker of the Commission of gas of Conaif, Francisco Alonso Gimeno.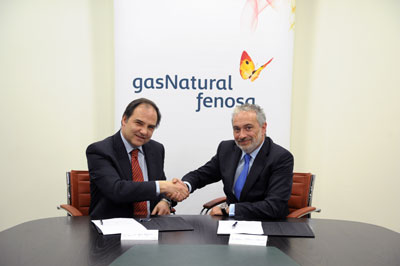 José María Gil Aizpuru (izq.) And Esteban White Serrano signed the agreement of collaboration between Natural gas Fenosa and Conaif.
According to the agreement, Natural gas Fenosa engages to set up programs of learning related with the natural gas allocated to the companies installers associated to any of the provincial associations of Conaif, with the aim that his members can have a better knowledge of the advantages, characteristic and necessary technical conditions for the treatment of this power.
Likewise, Natural gas Fenosa engages to inform to Conaif of the changes and modifications in the field of the distribution of the natural gas and of the commercial politics that adopt the energetic company to attain the expansion of the network of distribution in the national field.
By his part, Conaif will be able to pose to Natural gas Fenosa any doubt that the confederation, his associations or the partners of these have on questions of technical character of the natural gas, or related with the extension and scope of the network of distribution of this fuel in the national territory. Likewise, Conaif assumes the commitment to act like link with his associations so that these formative programs arrive to the greater number of possible addressees.