This news article was originally written in Spanish. It has been automatically translated for your convenience. Reasonable efforts have been made to provide an accurate translation, however, no automated translation is perfect nor is it intended to replace a human translator. The original article in Spanish can be viewed at
5°Congreso Español de Mantenimiento y 16°Congreso Iberoamericano de Mantenimiento
5°Spanish Congress of Maintenance and 16°Congress Iberoamericano of Maintenance
5 December 2011
Between the days 15 and 17 November the Spanish Association of Maintenance celebrated in Barcelona, in the frame of Expoquimia, the V Spanish Congress and XVI Congress Iberoamericano of Maintenance. The purpose of the congress was the one to stand out the profit and value that the excellence in maintenance contributes to the company and to the society in general, and more in these times of crisis that are living .
In the inaugural act of the congresses participated Pau Villòria i Sistach, general secretary of the Department of Territory and Sustainability of the Government of Catalonia, Rafael Foguet, president of Expoquimia, Javier González Fernández, president of the Spanish Association of Maintenance (AEM) and Juan Pedro Maza Sabalete, president of the Federation Iberoamericana of Maintenance (FIM).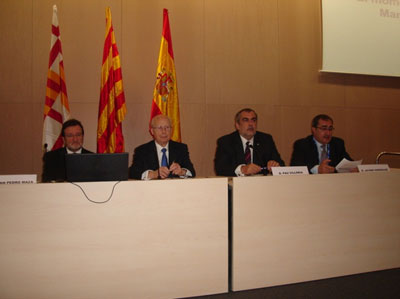 Juan Pedro Maza, Rafael Foguet, Pau Villòria and Javier González.
Related Companies or Entities
Asociación Española de Mantenimiento