This news article was originally written in Spanish. It has been automatically translated for your convenience. Reasonable efforts have been made to provide an accurate translation, however, no automated translation is perfect nor is it intended to replace a human translator. The original article in Spanish can be viewed at
Mecalux colabora con el INSHT para formar sobre riesgos en los almacenes
Mecalux Collaborates with the INSHT to form on risks in the warehouses
22 June 2012
Mecalux
, skilled company in the market of systems of storage, collaborates with the National Institute of hygiene and Hygiene in the Work like speaker in courses on risks in the storage, headed to responsible of prevention, technicians and other professionals of companies that manage the hygiene of the warehouses. In addition to contributing his wide experience in the design of metallic shelves, the experts of Mecalux explain in the formative sessions the new criteria that follow to the hour to realise the annual inspections that stipulates the European norm JOIN-IN 15635, approved in March of 2010.
During the last formative session, celebrated this month of June, the company presented also like practical example his central logistical warehouse, that integrates in his design the measures of prevention of labour risks and the technical solutions of hygiene for the storage in shelves.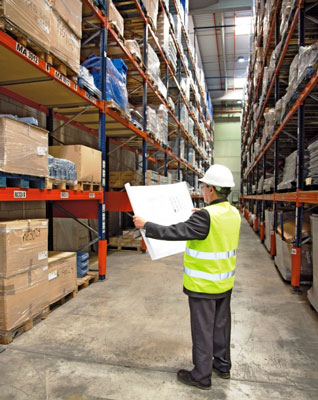 The European norm JOIN-IN 15635 forces to the companies to carry out periodic technical inspections with the aim to achieve a safer operation of the warehouses and avoid that they produce damages in the structures of the metallic shelves, that in a future could cause accidents. The employers have to request to an external expert that, like minimum once a year, review the shelves and help to avoid a possible landslide or fall of the commodities, accident that could arrive to be very grave for the operarios of the warehouse.
Mecalux Offers this service from does more than 25 years with seen to achieve that the warehouses are safer and efficient. The hits of carts and other equipment during the manoeuvres of load and download of commodities are the main causantes of the damages that suffer the shelves of the warehouses. These hits in the structure are not always visible and can affect the provision and capacities of load of the shelves. With the technical inspection of Mecalux can locate these dilapidated elements and, at the same time, correct anomalous operations in the warehouse.