This news article was originally written in Spanish. It has been automatically translated for your convenience. Reasonable efforts have been made to provide an accurate translation, however, no automated translation is perfect nor is it intended to replace a human translator. The original article in Spanish can be viewed at
CeMAT Russia prosigue su línea de crecimiento
CeMAT Russia Continues his line of growth
31 May 2012
With more than 150 display units, CeMAT Russia continue his line of growth and presents this year —of the 25 to 28 September— in a surface of exhibition considerably greater of around 3.500 square metres, and in some surroundings coyunturalmente positive.
The Russian economy grows of stable form with an increase predicted of 3,4%. With this, grows also the demand of surfaces of warehouse and logistical, especially in the industrial metropoles of Moscow and St. Petersburg. According to GTAI (Germany Trade and Invest), the experts split of the base that in 2011 inaugurated in Russia almost 500.000 surfaces of new storage. "The conditions for the CeMAT Russia of this year are optimum. Russia is a market in growth and increasingly important also for the Intralogística. In the frame of the Industrial fair Trade Fair Moscow, CeMAT Russia offers to the sector a platform ferial already established", in words of Andreas Gruchow, member of the Managerial Board of Deutsche Messe.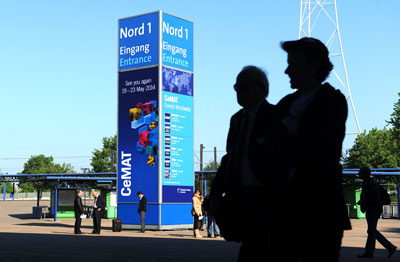 Photo: CeMAT 2011. Deutsche Messe.
Under the common denominator ITFM (Industrial Trade Fair Moscow) in addition to CeMAT Russia will celebrate of the 25 to 28 September 2012 the fairs 'MDA Russia', 'Industrial Automation Russia' as well as 'Surface RUSSIA'. These four fairs present technological solutions of the sectors of technologies motrices and of fluids, industrial automation, technologies of surfaces and Intralogística. Conjoint organisers are OOO Deutsche Messe RUS, Moscow, a subsidiary of Deutsche Messe, as well as ITE Group Plc., a company feriante English with branches in eleven countries. Only in Russia, this group organises 50 fairs and conferences to the year.