This news article was originally written in Spanish. It has been automatically translated for your convenience. Reasonable efforts have been made to provide an accurate translation, however, no automated translation is perfect nor is it intended to replace a human translator. The original article in Spanish can be viewed at
Cimalsa presenta ante la prensa los actos conmemorativos de su 20º aniversario
Cimalsa Presents in front of the presses the memorial acts of his 20º anniversary
30 May 2012
Cimalsa
summoned yesterday to the presses to end to present the acts and memorial actions that will carry out with reason of his twentieth anniversary.
As it explained his general director, Isidre Gavín, in addition to celebrating the anniversary of the entity, founded in 1992, Cimalsa wants to take advantage of the occasion to "update and renew the aims of the company", adapting them to the new reality and the new challenges that present so much to the companies as to the professionals of the logistics.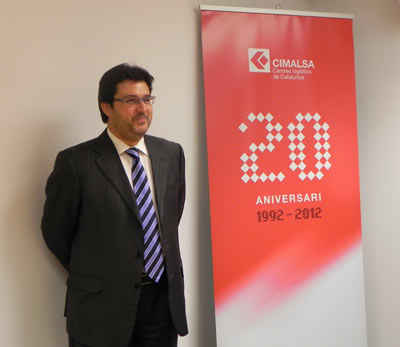 Isidre Gavín Presented the new logo memorial of the 20 years of Cimalsa.
Like this, some of the actions that will carry out along this year are, for example, the première of a new logo memorial of these 20 years; the celebration of the technical day '20 years of Cimalsa: the challenges of future of the logistical infrastructures'; and the exhibition 'Cimalsa 20 years: the challenges of future of the logistical infrastructures', that will inaugurate in the CIM Vallès and will be itinerant by logistical centres, headquarters of business associations and centres of learning.
On the other hand, they will undertake actions more strategic like the editorial of a new Strategic Plan of Cimalsa, to end to update his aims, incorporating new orientations as for example the internationalisation. Also it will present a new 'Observatory of the Logistical', in collaboration with the Institut Cerdà and the Icil, and more oriented to the demand. Likewise, Cimalsa will draft a 'Letter of Services', that will present in the next edition of the SIL, and that is oriented to improve and expand the services and enter commitments of quality in the management. Other planned actions will be, for example, the update of the web of the company, creating likewise a newsletter and betting by the TIC and the social networks, or also signatures of agreements with entities, in a clear bet by a transversal work and in network.
Related Companies or Entities