Tecnocom Presents his offer of solutions for the industry of the transport and the tourism
4 May 2012
The division of industry of the Spanish multinational Tecnocom foresees an upper global growth to 10% in 2012. An increase of the sales that will support , fundamentally, in his activity in the Latin American market and in the maintenance of the results of the past year in the Iberian Peninsula, where the forecasts of the analysts announce a near decreasing to 10% in the sector TIC.
To support these aims, Tecnocom has reinforced his offer of solutions of industry in his different areas of activity. The first in presenting have been the directed inside his division of Industry to the sectors of Transport and Tourism, designed to expand the services to the user, keep the competitiveness and profitability of his customers, reduce the costs of property and accelerate the return of the investments.
"The solutions —explains Enric Calderó, general director of the sector Industry of Tecnocom— operate with identical efficiency in the two big stages of commercial activity of the company: Iberia and Latin America. In the first, characterised by a high technical level, will allow to reduce the costs of the equipments and the infrastructures, incorporate new technologies and functionalities and generate extra income derived of the new models of business that facilitate those. In Latin America, the stage shows a big market where there is a lot for doing in the systems of transports".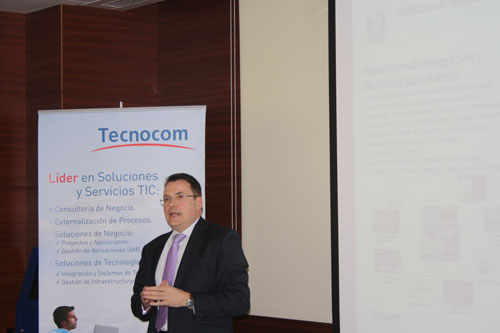 Moment of the presentation of the new solutions of Tecnocom during a breakfast informative.
The offer 2012 of Tecnocom for the industry of the transport, includes important novelties such like models of management based in the concept 360º, so much for the transport of commodities as of passengers- Stand out the modules for saving of fuel –between 4% and 10%-, of intelligent management of fleets, management of commodities and optimisation of routes. The solution of transport attends to the infrastructures, to the technology of the equipment TIC and to his exploitation and contributes an innovative approach oriented to the sustainability based in a payment by use that allow ROI accelerated.