This news article was originally written in Spanish. It has been automatically translated for your convenience. Reasonable efforts have been made to provide an accurate translation, however, no automated translation is perfect nor is it intended to replace a human translator. The original article in Spanish can be viewed at
No te lo creas: huye de los medios
No you believe it to you: it escapes of the means
Ibon Linacisoro. Director of Interempresas
31/08/2010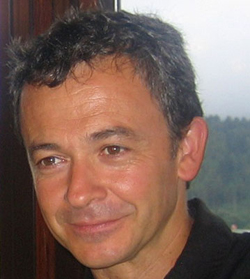 1 September 2010
Time: We are dedicated to the weather more time than ever before in time. We asked those around us, we consulted specialized Internet pages, we do strive to be the TV at the time of the time and even plan many activities based on the time. And it is that the margin of error of weather forecasts is high, too much to the importance that they have gained in this culture of having it all controlled. He has for himself the undersigned is not that good and bad men and women of the time, that all should be nurturing, surely, a few sources that everyone has access, there are but that the glut of information that confronts the people of the present century obliges to give these final informationeven when those who emit them know that mother nature, in the end, makes what pleases, changes the wind, slows down it or accelerates it and leaves us with the barbecue with friends passed through water.
The economy: We are dedicated to the forecasts of economic future more time than ever before in time. We asked those around us, we consulted specialist Internet sites, we do strive to be at the TV when it comes to economic information and even plan many activities on the basis of what they say that it is going to happen. And it is that the margin of error of the predictions of the behaviour of the economy is high. Clear the undersigned shown here a little more confusing and does not know what to think: If we live surrounded by a big lie, if the media give an excessive credibility to those who dare to predict, that manyIf you just have to devote a specified number of time or space to the information about what is going to happen and anything goes to cover this information space or even, and they forgive me the audacity, if each of these information aims to promote someone. It is difficult to know, but we are all agreed on that the information on the crisis, the exit from the crisis and similar is extremely absurd. One day the greats such as USA and Germany are beginning to present positive data, that tell us, another day back pessimism because markets have behaved unexpectedly, China next week will be the King of the world and a month later above has expired and speeches are different. Not to mention Spain, where everything is different.
Urgently need to promote the removal of the healthy population of media that are good or bad, are those which transmit all this mess. We will focus on Interempresas, that they do know, and devote the rest of the day to the barbecue in the Sun and even if I press, to work a little bit.