This news article was originally written in Spanish. It has been automatically translated for your convenience. Reasonable efforts have been made to provide an accurate translation, however, no automated translation is perfect nor is it intended to replace a human translator. The original article in Spanish can be viewed at
Nuevo software para el análisis del anidado de piezas estampadas
EasyBlank Inventor, Autodesk, is intended for designers of metal parts, among others
New software for the analysis of the nested of stamped parts
Drafting Interempresas
28/02/2011
February 28, 2011
AutoForm Engineering, supplier specializing in software solutions for the industry of formed sheet metal, will introduce EasyBlank Inventor in the world market. It is a supplementary module of the software Autodesk Inventor is designed for designers of metal parts and tools, the millwrights and those responsible for tool cost calculation.
The most recent product of software of AutoForm, EasyBlank Inventor, has implemented in the software's design and mechanical engineering of Autodesk Inventor environment. Autodesk Inventor software goes beyond digital prototypes in 3D, allowing engineers to design, visualize, and simulate products before the latter are constructed.
Using the known AutoForm simulation technology, quickly estimated the development of sheet from your CAD geometry of piece. EasyBlank Inventor specialises in determining the optimal layout of the nested, taking into account several important parameters, such as the coil width, the step or the required arch. Users have several options of the nested layout. The database of materials incorporated in the EasyBlank Inventor, includes important parameters of the materials most used in printing. In addition to these innovative features, EasyBlank Inventor also lets users evaluate the viability of the product in its infancy. Given that recently cost reduction is required in each of the stages of product development, the first assessment of viability is vital, as it eliminates costly and late changes of design piece, and thus allows the optimization of the cost of raw materials.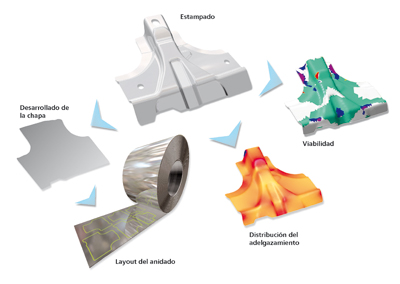 EasyBlank Inventor is an ideal software for designers of metal parts and tools, millwrights, and responsible for the calculation of costs of tools.
The results of the analysis are summarized in a report based on HTML that contains detailed information on the contour of the sheet, the optimal layout of the nested, consumption and cost of the material, the distribution of thinning of the piece, the graph of feasibility and the associated FLD diagram. EasyBlank Inventor allows the quick and easy creation of these reports, enabling internal communication in the company and which are very useful for the purposes of budget. The benefits for users are the early analysis of cost and manufacturing, optimal use of the material and the minimization of waste and costs.
Chris Douglass, head of the unit's business of Autodesk Manufacturing Industry Group, said: "EasyBlank Inventor is available to customers through our network of distributors." "The benefits of the AutoForm simulation technology incorporated into EasyBlank Inventor are certainly attractive to our customers and we are pleased to expand our technology both in workshops of tools and dies and in the field of printing in general."
"Because of its ease of use, EasyBlank Inventor fits perfectly into Autodesk." "The analysis of stamped parts is already integrated in the environment of Autodesk Inventor, making it easily accessible to a wider audience", explains Markus Thomma, corporate director of Marketing for AutoForm.