This news article was originally written in Spanish. It has been automatically translated for your convenience. Reasonable efforts have been made to provide an accurate translation, however, no automated translation is perfect nor is it intended to replace a human translator. The original article in Spanish can be viewed at
Nilfisk Alto presenta tres hidrolimpiadoras de agua caliente en BigMat Day
Nilfisk Alto presents three hidrolimpiadoras of hot water at BigMat Day
May 18, 2010
Nilfisk Alto
, pressurized water machine manufacturer, has made upgrades to the mid-range and premium of the Neptune in its professional line of water hot in FA (Flow-Activated) versions. During the fair introduced three new models, Neptune FA 4.5 and Nilfisk Alto 7, equipped with a new system of active control of flow, FA (Flow-Activated).
The caudal asset (FA) control system is based on traditional systems KEW, tested for over 35 years. Thanks to the FA the impulses of start and stop of the engine are created by the movement of water, not a decrease or increase in pressure at the pump.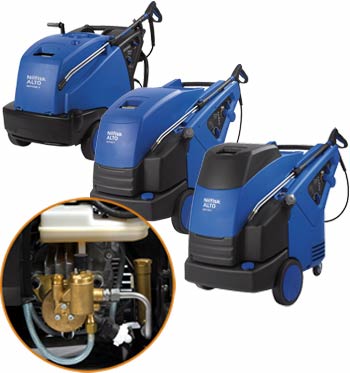 New hidrolimpiadoras.