This news article was originally written in Spanish. It has been automatically translated for your convenience. Reasonable efforts have been made to provide an accurate translation, however, no automated translation is perfect nor is it intended to replace a human translator. The original article in Spanish can be viewed at
SolidWorks World 2012: Segunda Sesión General
Two user cases were the centre of today's General Sessions
SolidWorks World 2012: Second General Session
Joan Sánchez Sabé, from San Diego, CA, USA
14/02/2012
14 February 2012
Today's General Session has moved around User Groups and Power Users. Again, community, communication and collaboration were words that we heard repeated many times. Just in case anyone wonders, this surely means something. And we are being readied for it.
Users: group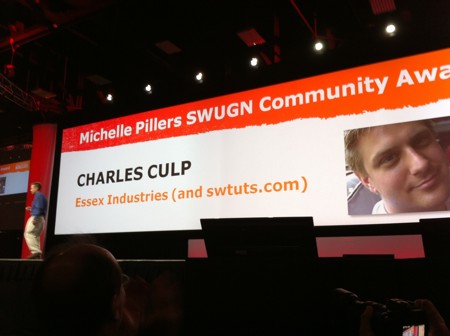 Richard Doyle awarded some of the leaders of the User Group Network, after letting us know a few interesting numbers: 2011 added 21 local chapters to the network. This means 44 (of the 51) US states, 5 Canadian provinces and 27 countries around the world.
The User Group of the Year award went to the New Hampshire SolidWorks User Group, with Indy Berend, John Blutt and Hoang Bao as its leaders. The Group Leader of the Year award for for Rachel York, of the Tech Valley SWUG. Michelle Pillers SWUGN Community Award was for MVP Charles Culp.
Black Ops Brothers
We had today two brothers, with a company aptly called Howe and Howe, and named Mike and Geoff, telling us the story of how they started their design careers some years ago. They make big strange-looking vehicles. These vehicles tend to be cutting-edge, meaning their performance goes far beyond convention. One of them: the so called Ripsaw, a light tank accelerating from 0 to 100 km/h in four seconds. Ferrari performance. The inspiration to make it: a chainsaw, something moving at high speed and that can kill you if it flies apart. The design challenge: size, speed, weight. Solution: take the problems one at a time and solve them. And especially: simulate your concepts, from the very beginning.
A second product showcased was a hydraulic robotic arm, to be used by firefighters. Designed and rendered using SolidWorks in one day. The whole product being designed and fabricated in nine. Ferrari performance, again.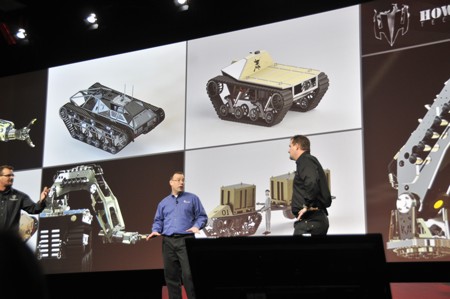 The Howe brothers, together with Darren Henry, director of marketing of SolidWorks, showing us their special ops vehicles
Collaborative design
Collaboration seems to be one of the centre themes of this years' SWW. So, we had Ben Kaufman, founder of Quirky, tell us how to design collaboratively. Quirky is allowing some people's great ideas become feasible products by providing the infrastructure that needs to surround any invention. According to Ben, we are all born inventors, but cannot fulfil our inborn capacity because we don't have ways to nurture it. And here comes Quirky, where you submit your idea, people from different areas add their feedback, knowledge and design abilities. By using this system, they are putting out two consumer products per week. The main idea: invention should be accessible, and social product development makes it so. One of the examples: how a power strip went from idea to shop.
This is an uncommon business model, no doubt. But to make products that need out-of-the-box-thinking, you need a model 'out of the box'.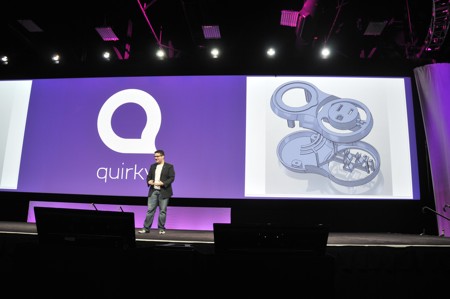 Ben Kaufman, showing the process of design of a power strip where plugs will not disturb each other
Related Companies or Entities
Dassault Systèmes España, S.L. (Solidworks)