This news article was originally written in Spanish. It has been automatically translated for your convenience. Reasonable efforts have been made to provide an accurate translation, however, no automated translation is perfect nor is it intended to replace a human translator. The original article in Spanish can be viewed at
Abus presenta su gama Ecolution
Brand stresses its commitment to sustainability with an organic range
Abus presents its range Ecolution
on March 10, 2011
Abus
is a brand that cares not only to survive the competition, but also by providing sustainable solutions to its range of products. Elisabeth Salas, head of Brand Marketing, explains some of the developments that the company has prepared this year for its customers.
At the stand F23-G24, arena in Ferroforma 2 visitors can also see the new range 155 of color, the very attractive colors combination locks.
Stands out also the Ecolution range, manufactured "without corrosive oils, which do not produce CO2 and do not wear PVC". The manufacturing process is sustainable and in addition, as explains the own Elisabeth "for every 10 locks stand a tree and by each purchased padlock, 50 cents will go to solidarity projects and reforestation, with the project Reinforce".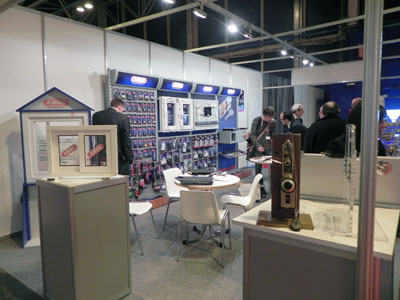 Abus stand in the last edition of ExpoCadena 2011.
"Rooms complete the presentation explaining that"it is a range that is now presented in blister", whose message is" green padlock, the solidarity lock ", which does not pollute and which has care each of its details". Other developments are, for example, the lock 150, which according to Chambers "is one of the locks in higher sales and now occurs in a new range of different colors, with the same price".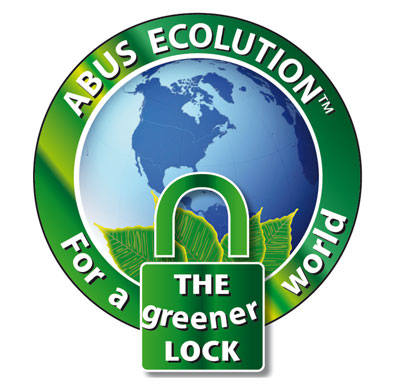 Also wanted to highlight the economic range Fun Lock, which is "aimed at children, with a niche market and a very attractive exhibitor". Speaking of locks for the professional sector, rooms he stressed that "the range 141/200 is a universal bolt with integrated Diskus padlock, for commercial vehicle or booths." "It has front and completely non-corrosive, opening with a coating of zinc and an additional bathroom."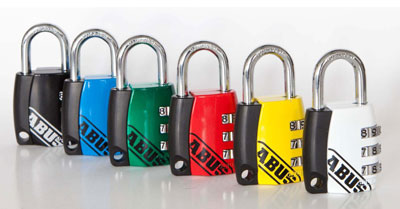 New range of 155 of color combination locks.
"-Explains Elisabeth - has joined the range of guardallaves Key Garage 787/797 chests, with variants of wall and knob". As for the latter, explains that you it's a removable knob "to place it where your want". In terms of bars tranversales, include new models "quieter, with new more rounded finishes and a cylinder of greater security." With an accessory "that allows to set the bar to the side of a door, so that does not have to do a drilling crossing the bar".
Another of the presented products is the bolt 7000, which has all the advantages of the model 9000, the price of 4000. "It is a bolt with a good price and with a design with two knobs to choose colors in silver, brown or white".
All news...
During the month of January, the company has three regional conventions where presented its new fare - rates for 2011 catalogue, a highly anticipated by its customers and applicable tool from the 1 of February 2011-. During these meetings, the Basque company also added the new trade policy that will expand its market share, announced the news to the 2011 and was exhibited the positive development in sales and targets for this year.