This news article was originally written in Spanish. It has been automatically translated for your convenience. Reasonable efforts have been made to provide an accurate translation, however, no automated translation is perfect nor is it intended to replace a human translator. The original article in Spanish can be viewed at
Ceco Shop inaugura un nuevo establecimento en Móstoles
Ceco Shop opens a new brand in Móstoles
September 16, 2010
Representatives of the City Hall of Móstoles, of the Municipal enterprise of economic promotion, company, customers, suppliers, media and friends gathered on 9 September at the opening of the second establishment of chain
ceco shop
, located in the polígono industrial Regordoño de Móstoles (Madrid).
It's a new point of sale with 1,200 square meters and more than 15 parking spaces just to be part of the chain of hardware stores and industrial supply Ceco Shop.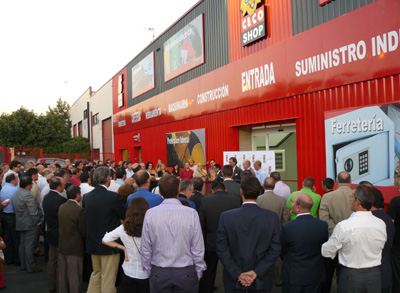 More than 250 people attended the inauguration of the new store Ceco Shop in Móstoles.
The Manager of the establishment, Carlos Castaneda, thanked their active participation, more than 250 participants from 40 years ago, in the family business journey undertaken by his father in this town and also wanted to convey the illusion that embarks on this new journey. In this regard, it should be mentioned that the owner company of this establishment, Caesar Castañeda and children, has been awarded this year for his 40 years of presence in this town in Madrid.
For its part, the director-general of the chain Ceco Shop, Balbino Menéndez, turned to those present to convey that the outcome of the work done has materialized in a special point of sale which will help to position the sector in Spain as a reference chain. At the opening was also attended by Juan Solano, Manager of the first point of sale of the chain located in the Sevillian town of Morón de la Frontera, that after cutting the commemorative band invited those present to see the new facilities and to provide for the future success of this new point of sale.
Related Companies or Entities
Cecofersa - Central de Compras y Servicios Profesionales, S.A.