This news article was originally written in Spanish. It has been automatically translated for your convenience. Reasonable efforts have been made to provide an accurate translation, however, no automated translation is perfect nor is it intended to replace a human translator. The original article in Spanish can be viewed at
WD-40, una solución también para las herramientas del jardín
WD-40, a solution also for garden tools
July 2, 2010
wd-40 company
presents the WD-40 multi-purpose as a product to recover, protect, lubricate and clean the tools and supplies that are used in the maintenance of the garden, as for example the mower and keep those areas who have suffered the adherence of herbs in its original stateresins and elements of the garden, especially in the summer periods.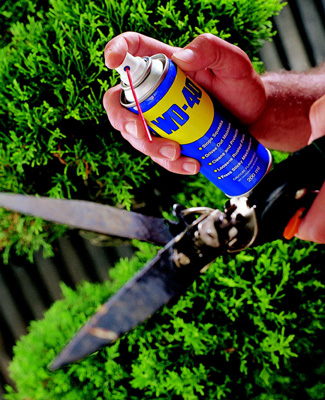 Thousand uses WD-40 spray is ideal moisture that comes in contact permanently with garden tools and also can remove dirt and grease the metallic elements that we use in the garden tools, avoiding the appearances of oxides in tools and electric machinesbeing a product that can not miss in any home with garden.
The scissors of prune, scissors cortasetos, blades, rakes, shovels, palettes, peaks, hoes, scarifiers, lawn mower, mechanical and electrical saws, pedestrian-controlled tractors, ahoyadores, desbrozadoras, hidrolimpiadoras, motoazadas, compostadoras, biotrituradoras, vacuum cleaners, lawnmowers leaves, cortabordes, etc., in short, all kinds of small and large, mechanical and electrical tools cannot be maintained with WD-40 with special properties of greasinglubrication, protection and cleaning.
Related Companies or Entities