This news article was originally written in Spanish. It has been automatically translated for your convenience. Reasonable efforts have been made to provide an accurate translation, however, no automated translation is perfect nor is it intended to replace a human translator. The original article in Spanish can be viewed at
M-Cut Europe en Ferroforma / Bricoforma 2009
M-Cut Europe in Ferroforma/Bricoforma 2009
February 19, 2009
Screw M-Cut-Universal is a designed and patented screw that admits the subject in the following materials: concrete, cellular concrete, masonry, wood, agglomerates, fibres (DM) and plywood without using a cue.
M-Cut provides a number of advantages: procedure more efficient and simple handling (drill - screw - ready), even to handle it with one hand, dismantling simple and with absence of brands of taco, choice of depths of docking and core of screw diameteryou get more subject with a bore diameter of smaller (cost savings), absence of the cue, ensures a high fire safety. Also get a reduction of inventory and equipment in industrial: a type of screw is suitable for all surfaces.
Anchoring screw M-Cut facilitates a more fast getting better protection against fires and load values higher thanks to its combination of mechanical and chemical Court.
The design of the thread and anchorage of auto-excavado of M-Cut offers high load even in the depths of docking small capacity.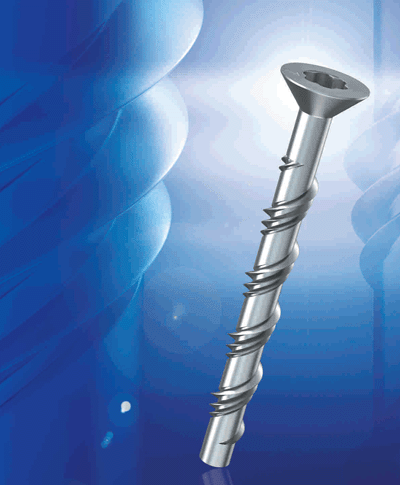 The universal screw M-Cut.