This news article was originally written in Spanish. It has been automatically translated for your convenience. Reasonable efforts have been made to provide an accurate translation, however, no automated translation is perfect nor is it intended to replace a human translator. The original article in Spanish can be viewed at
Bricogroup definió su trayectoria en Eurobrico 2008
Bricogroup defined his career in Eurobrico 2008
November 14, 2008
On 16 October, during the celebration of the fifth edition of Eurobrico, Bricogroup made a presentation on its objectives and strategies for the coming years. The talk took place in the fair of Valencia Conference Centre, and responsible for carrying out them were Jose Maria Mera and Enrique Coco, President and CEO, respectively, of Bricogroup.
Throughout the presentation became a brief tour of the recent history of this central for shopping and services created in the year 2000, as well as their evolution throughout these nearly nine years. In this way, they explained the step function as a Central, dedicated almost exclusively to purchases, Central purchases and services, with the creation of other departments such as Marketing and imports. On a practical level these changes were, among others, the change of the logo, by one more current; the incorporation of a slogan 'Boasts of home', in line with the new image that is intended; design of a manual of mark and further development of a technical manual for the stores under the brand name Bricogroup; the creation of trade committees and of Marketing (CCM), instead of the former committees of purchase; carry out direct import, etc.
On the other hand, Henry coconut explained the approach to Bricogroup the current situation of crisis, approach through, inter alia, a redefinition in the strategy of communication brochures; new formulas for growth; and a bet even more by its own brand products, sign of confidence in the relationship between the central and its suppliers.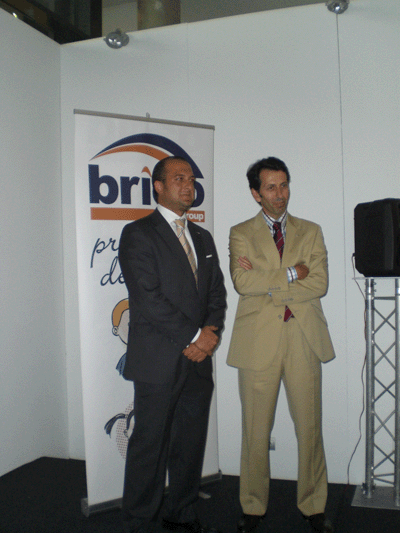 Jose Maria Mera and Enrique Coco, President and Manager, respectively Bricogroup.