This solution of Yudigar provides a maximum aprovechamiento of the space
Solutions of storage Rack To.R.: For products of any weight and dimension
Editorial Interempresas
16/04/2012
16 April 2012
From it does several years Yudigar, S.L.Or. (Group HMY) has improved in the sector ferretero the storage of the references in the available space to be able to expand the destined space to the exhibition. The system Rack AR allows to store references inside the shop with what achieves subtract metres of warehouse in profit of the available space. Given the structure of the system, the top allows to store products of any weight and dimension.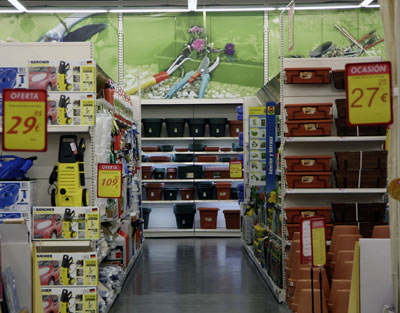 Likewise can place a runway to manipulate the products or panelar all the zone to hide the warehouse in the shop.
In addition to the aprovechamiento of the space, the system Rack To.R. It offers crowd of advantages. His format and resistance allow to store products of any weight and dimension in his top, being able to leave the free inferior part for the integration of a conventional shelving that presents with the specific characteristics that the product or the section require. The Rack does not influence in the way of exhibition of the shelving, but can act like expositor in himself same, showing the product mounted in his surroundings of use or like support of the visual communication of the shop.
This last function of support of decoration is another of the most important advantages of the system Rack To.R Of Yudigar, since in addition to acclimatising the shop and reinforce his visual identity and señalética, allows to hide the commodity stored in the room of sales.
In addition to the furniture and the visual communication, Yudigar can commission also of the rotulación of the façade, contributing to reinforce the image of the mark from the outside of the shop.
Related Companies or Entities
Yudigar, S.L.U. (Grupo HMY)