This news article was originally written in Spanish. It has been automatically translated for your convenience. Reasonable efforts have been made to provide an accurate translation, however, no automated translation is perfect nor is it intended to replace a human translator. The original article in Spanish can be viewed at
Miebach Consulting optimiza la cadena de suministros del Grupo Metro en Turquía
Miebach Quality consultancy Optimises the chain of supplies of the Group Metre in Turkey
20 February 2012
Group Metre, German company that occupies the third place in the ranking world-wide of companies of distribution, operates in Turkey from 1990, when it inaugurated his first centre of Cash and Carry in Istanbul. With 61 points of sale and near of 7.000 direct employees, the company contacted with Miebach Quality consultancy to realise a review of the chain of supplies to face the plans of expansion that Metre has foreseen for the next five years, and that involve the opening of points of sale of distinct formats in different locations of the country.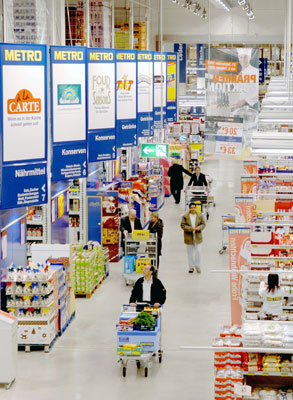 Miebach Quality consultancy Realised a plan of optimisation of the chain of supplies with the aim to give a better service to the shops, reduce the inventories and the costs of the chain of supplies from the provider until the linear of the shop.
The study has based in the exhaustive analysis of the situation of the company in Turkey and in the dynamics of his chain of supply, but also in the benchmarking generated during other similar projects developed for Miebach in other countries. The measures contemplated in the study will allow to Metre Turkey maximizar the service to shops (availability of product, frequencies of supply, services of value added), optimise the costs of the chain of supply of provider to shop, increase the level of centralisation of providers, improve the cross docking of products, in addition to establishing the bases for a growth to longer term.