This news article was originally written in Spanish. It has been automatically translated for your convenience. Reasonable efforts have been made to provide an accurate translation, however, no automated translation is perfect nor is it intended to replace a human translator. The original article in Spanish can be viewed at
Oase lanza sus nuevos depósitos para estanques prefabricados en polietileno
Oase Launches his new tanks for lakes prefabricated in polietileno
25 January 2012
Between the novelties that Oase has had for the 2012, are his new and robust tanks for lakes prefabricated of until 1.000 litres. They are manufactured in polietileno (PE) with walls and edges of big resistance in a modern and rectangular design. All have a depth of 45 cm and present in the following measures:
- Tank of 150 litres (40 x 80 x 45 cm.)
- Tank of 290 litres (80 x 80 x 45 cm.)
- Tank of 430 litres (120 x 80 x 45 cm.)
- Tank of 860 litres (120 x 160 x 45 cm.)
Know schedule a lake is fundamental so that this, with his contemplation, do us enjoy of this feeling of freedom and rest, that the water has in our life from the psychological point of view.
Nowadays the fault of space is not a problem, exist new materials and companies like Oase, specialised in new products, that do that the enjoy of a lake in the terrace or garden find near at hand of any one.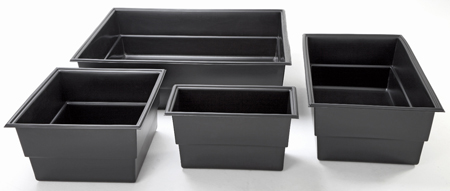 Tanks for lakes prefabricated of Oase.