This news article was originally written in Spanish. It has been automatically translated for your convenience. Reasonable efforts have been made to provide an accurate translation, however, no automated translation is perfect nor is it intended to replace a human translator. The original article in Spanish can be viewed at
Bellota lanza un nuevo modelo de calzado para uso profesional
Acorn launches a new model of footwear for professional use
on March 10, 2011
Acorn
has launched, within their range of footwear for security 'nonmetal' (security and template Cap non-metallic antiperforación), three new references, which combine protection (UNE EN ISO 20345) with lightness and flexibility. On the one hand, it presents the shoe Light 72209 S3, available in two colors (beige / grey). And on the other hand, it has launched the boot Spark S3, which, particularly oriented to welding work, has a tougher skin and with a quick release tab sailboat.

The new shoe model Light 72209 S3 is available in two colours (beige / grey).
These new references are designed to provide the user, in addition to the above-mentioned lightness and flexibility, and a great comfort, absolutely necessary to deal with the hard days of work. Other features include its treatment hidrofugado (S3), which provides resistance to the penetration and absorption of water. Also the maximum provision certifiable anti-slip (SRC) and breadth of the toebox, for greater comfort in the accommodation of the foot. The inner template is removable and formed, for best fit.
With these new references, Acorn submitted in Ferroforma-Bricoforma 2011, reinforces its commitment with the user, looking for their protection and helping his task as comfortable as possible.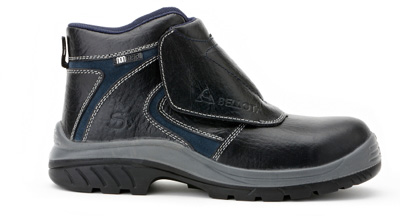 Bota Spark S3, especially aimed at welding.
Related Companies or Entities
Bellota Herramientas, S.L.U.