The organization estimated at a few 153.000 visits received this year the Hall
Construmat 2009 brings interesting proposals to address the situation of the sector
Drafting Interempresas
28/04/2009
April 28, 2009
Construmat 2009,
which closed its doors on April 25 wanted to become a platform for reflection and proposals for the revitalization of the sector and overcoming the crisis. The visit of more than 153,000 professionals allows reaffirm its position of reference of the construction Chamber and overcome, in addition, forecasts early, difficult to make in a very complex as the current economic times.
The international exhibition of construction of Fira de Barcelona has been the great showcase of technical innovations, but apart from this important dimension, the programme of workshops has marked guidelines to be followed by the sector, emerging new business opportunities.
Discussions on legislation about noise in implementation of the technical building code in a day in which participated the Minister of housing, Beatriz Corredor - who also chaired the inauguration of the event - and the answers of the different public administrations to the crisis should be emphasized.
The rehabilitation was manifested as a real alternative to the construction sector, as well as the development of sustainable construction and initiatives related to new ways of understanding housing and their materials. It is the case of the project Casa Barcelona, one of the greatest attractions in the Hall, which, in its fifth edition, has presented a modular, social, innovative and sustainable housing. With the assistance of the European Commissioner for Energy Andris Piebalgs has discussed the need to extend certificates of standardization in the construction processes all countries members of the Union.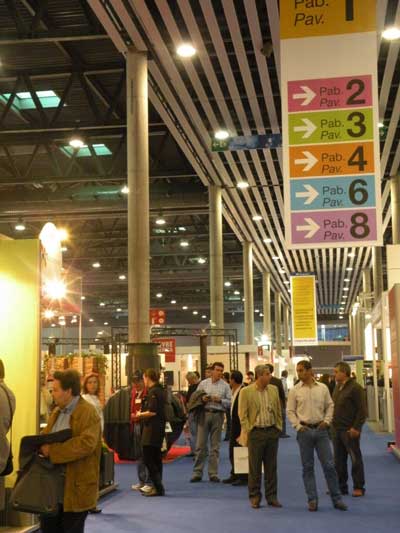 Construmat 2009 has closed its doors, overcoming a difficult time on the economic situation and with a clear optimism about the next edition.
New markets
The President of Construmat, Josep Miarnau, stressed that "the Hall has shown that the sector has sufficient dynamism and the necessary options to overcome the crisis", expressing its satisfaction with the results of this year's Edition in a difficult environment for the sector.
Construmat 2009 has brought together 1,350 exhibitors from 31 countries in the six pavilions of the Gran Via venue. The Organization of various reverse missions from Africa, Latin America and Eastern Europe has been given to the sector the opportunity to explore new markets.
Construmat Awards, which have been awarded the reform of Gran Via and the Europe square and the Pavilion of Spain in Expo Zaragoza; the national contest and provided national contest and international masonry have completed the offer of Construmat.
The prefabricated construction sector also had its space in Construmat. Companies such as Prefabricats Planas, Hormipresa, Hydrodiseño, Paver precast, Preinco, Pujol, Roura Anglada, Systempref or Trumes, among others, presented their constructive solutions. Furthermore, also the Guild of prefabricated and deriving from the cement of Catalonia and Mnza, the National Association of the precast concrete industry, were presented at Construmat, organizing various formativo-empresariales Conference on the EHE, Spanish instruction on structural concrete.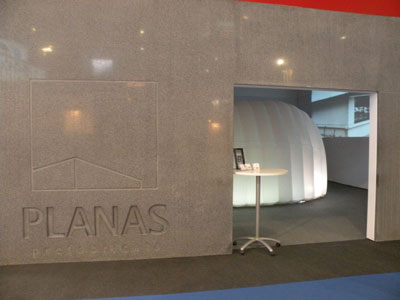 Booth of Prefabricats flat, made with a combination of different solutions and finishes that offered by the company.