This news article was originally written in Spanish. It has been automatically translated for your convenience. Reasonable efforts have been made to provide an accurate translation, however, no automated translation is perfect nor is it intended to replace a human translator. The original article in Spanish can be viewed at
Entrevista a Ángel Sanz Peñas, presidente de Grupo Cerrajero
"We want to be a self-regulated profession"
Interview with Ángel Sanz Peñas, Group President, locksmith
Drafting Interempresas
07/04/2009
April 7, 2009
Locksmith group
, the Association of technicians in openness and security, organized a general Assembly with all of its members during the contest of Ferroforma/Practical World, to present a new platform called AUCE (Union Locksmiths Spain) and report their dissatisfaction with the situation of staff not qualified services in the open and change locks. Interempresas hardware, DIY and supply Industrial attended the event and spoke with the Chairman of the group, Ángel Sanz Peñas, who was positioned regard this situation and clarified the reason for the creation of this new platform.
What is the reason for the general assembly organized?
We are here to hold a general Assembly that aims to dignify the work of the locksmith of professional safety of openings and try to differentiate ourselves from the people who are doing openings indiscriminately without being a professional or be qualified. We want to be a self-regulated profession and intend to get it to be equal, being discharged, being legal and not be standing to which each charged 1,500 euros and another 50. In addition, now is has also created the platform of Union of Locksmiths is the AUCE (Union Locksmiths Spain) that also trafficking of unifying all the associations of this Guild at the national level. We intend to self-define us and have a regulation for the Locksmiths are controlled and there is no 'pirates'. Security is a very serious thing and either cannot enter into our House by manipulating the entry so that then there are problems, thefts, robberies, and others. We are also committed to professionalism by organizing courses, conferences, training, providing services that are rewarding for customers.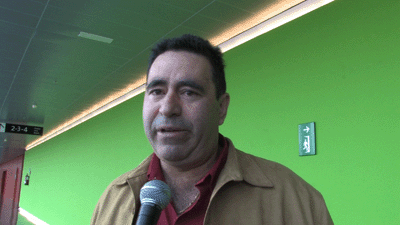 Ángel Sanz Peñas, President of group locksmith.
How many members the Group locksmith is composed? What main functions do you have?
Locksmith group is composed of 86 members. At the national level we are scattered throughout Spain and 5 associations with UCE at the moment. With each group can be 400 to 500 more or less already classified Locksmiths.
Related Companies or Entities
Unión de Cerrajeros de España / Grupo Cerrajero