Daikin and awareness about the use of more efficient air conditioning equipment
on April 8, 2011
In line with the Plan of saving and energy efficiency (PAEE 4) - directed by the IDAE - to minimize energy consumption, Daikin is working actively to contribute to these measures informing and raising awareness about the use of more efficient and environmentally friendly equipment.
To this end, the firm, that it stands out as the only company in the world that together makes equipment for air conditioning and refrigerant gases, has a dynamic microsite www.sustituyeR22condaikin.com that has positioned itself as an interactive online's reference platform.
On this website the user will find information and a virtual assistant to solve any doubt about the possibilities of replacement of old equipment that consume more energy and also use R-22 (a coolant damaging to the ozone layer), by other more innovative, efficient solutions and to help protect the environment.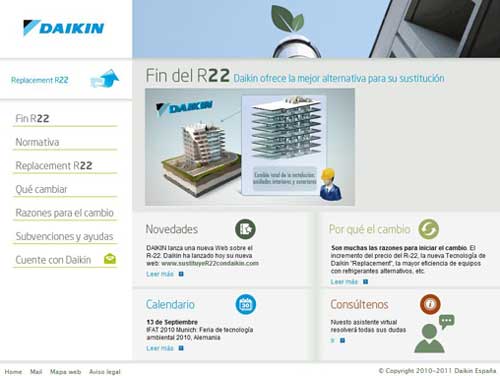 Image of the new portal of Daikin.
It is necessary to take into account the rules of the new regulation European 1005 / 2009 which currently regulates the use of the HCFCs, in general, and in particular of the R22. This legislation prohibits the use from the last January 1, 2010 the pure R-22 and extends this prohibition, as of January 1, 2015, also to the use of HCFCS recycled for the maintenance and recharging of any equipment of refrigeration and air conditioning. In this context, Daikin performs an active role through its microsite to raise awareness in society about the replacement of air conditioning equipment with R-22 for more efficient and environmentally friendly alternatives.
Related Companies or Entities