This news article was originally written in Spanish. It has been automatically translated for your convenience. Reasonable efforts have been made to provide an accurate translation, however, no automated translation is perfect nor is it intended to replace a human translator. The original article in Spanish can be viewed at
Encoladora Perfect de cola de poliuretano
Gluing machine Perfect for polyurethane glue
Drafting Interempresas
28/09/2010
September 28, 2010
BlindMaster version PUR (polyurethane glue) is particularly devoted to the difficult jobs, such as digital printing on high-volume, couché, against fiber paper, and so on. More so, the results of current role are outstanding.
Poliuretando queues are composed of highly reactive polymers and isocyanates causing the cross-linking of the film's tail in contact with the air and the moisture in the paper. The result is far superior to the queues EVA in the resistance to the boot, solvents, inks or heat.
The BindMaster is a highly automated monomordaza, conceived for the short and medium runs casing. It is particularly adapted for the frequent changes of format and thickness. His great speed of implementation underway describes as the ideal machine to complete the chains binding, to produce, for example, the preserial of books.
Loading station
With integrated adjustable vibrador-igualador. Gag of Pneumatic clamping of the car, without adjustment, whatever the thickness. Previous gag of low pressure controlled by pedal, hands-free type switch.
Gluing system
The BindMaster uses the EP48VSB, fed and emptied by the Pail Nordson Versa injector. This injector self-regulates depending on the thickness and length of the binding in the carriage of the machine (control of the regularity of the film's tail when the thickness to bind is variable).
EP 48 VSB has a system of lateral gluing and cutting tail for depression at the end.
Milling
It is a major operation to ensure the maximum adhesion of the polyurethane on the role, maintaining a flat opening. The BindMaster uses a special strawberry, which generates a very regular microrranurado on all the surface to queue.
Touch screen control
All of the casing, the fuel transfer and the vaciador-alimentador functions are controlled from the touch screen. Twenty programs allow you to memorize the parameters of the stints, facilitating up very fast implementation.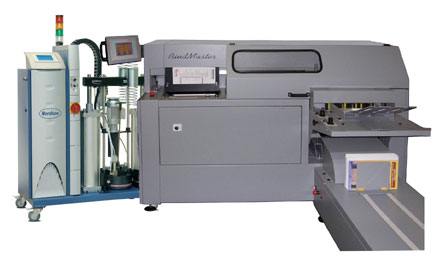 Gluing machine AlbaMac BindMaster.
Cleft system integrated
Cleft by pneumatic stamp, adjustable pressure (blade/anvil) to avoid the cracked the folding of the covers, especially the printed digitally or with funds. The machine has up to six cleft, positioned automatically according to the thickness to bind.
Other options
The station pressed cover feeder is suction, with dividers and front blower. The socket is pneumatic. Pressure, adjustable in the back and the sides of the book. It gives option to the auto pre-positioning of the gag of socket based on the bulk of the book.
The reception has a motorized vertical output and Cadence well–timed don capacity of 70 centimeters.
as an additional option, can install you an automatic output of loaded gag with soft safety barriers.