"The professional now works with the mind set in productivity"
Interview with Sandro Lara, responsible for the Department of machinery and financial Riversa
May 3, 2011
Irrigation green (
Riversa
) has since the 1990s fighting for being an innovative company with a vision for the future, putting its clients marketing tools and specialized machinery which will help them to succeed in the care of the gardening and maintenance of the lawnboth in the sector of private garden, and sports surfaces and golf courses. With the head of the Department of machinery and financial, Sandro Lara, we have seeded the evolution of the needs in that the practitioner wants to productivity and machinery of gardening in the last twenty years, and as a leading company Riversa has been adapting to an increasingly competitive market.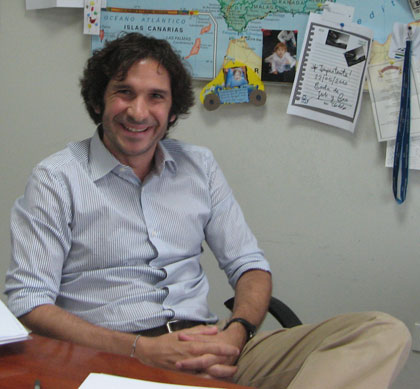 Sandro Lara, commercial director of Riversa machinery.
The maintenance of the lawn is one of the major handicaps that has the professional when it comes to caring for a garden. Do with what media account currently this professional-level equipment, was not available just a decade ago?
The equipment has been the logical evolution for more than 10 years have been announcing since Riversa and Toro. It is a development marked by three key factors in the maintenance of any green area: sustainability, productivity and saving water.
Sustainability is obtained by presenting a range of machinery with covers of mowing 'Recycler', a system patented by Bull for over twenty years and that makes us the "unique" in the market that we can carry out a mowing perfect without collecting or leaving remains on the grasssimply breaking the herb in water and nutrients which in turn are sent back to the Prairie. With this system we recycle, which makes us perfectly meet the Agenda 21, which are the majority of local councils and municipalities of Spain and commitment which is nothing more than a global commitment to take measures in favour of sustainability and environment. If we recycle glass, paper, plastic, how not are we going to recycle the lawn?
Productivity the set up with the most powerful set of machines on the market and with wider mowing covers. We worked very hard to demonstrate the need to optimize and maximize return on your time and money to our customers. We understand the mowing as the most "be" part in the different works of gardening and therefore are committed to broad and powerful machines.
Saving water is obtained through centralized systems of irrigation, nozzle precision, sensors, etc. Systems all of which help us to control that every drop of water is useful.
The number of green areas, golf courses and sports areas in our country has grown dramatically in recent years. To what extent has this fact affected also the renewal of the machinery for its maintenance?
The professional now works with the mind set on productivity, therefore, to increase the number of square metres of grassland to maintain, those professionals who have renewed machinery have done so thinking on optimizing their work, be more productive, and maintain the highest number of meters in the same time you were doing before.
This is a trend that has been observed in recent years, but is based on one of the concepts that we have been insisting throughout this time: the need for a correct dimensioning of the Park of machinery needs mowing are. This is not another thing to check how many hectares are keep, what type are (with obstacles, slope, etc.) and compare it with the range of existing machinery (widths of court, powers, etc.), always thinking about raise a cycle of weekly mowing.
Extent to which has the replacement of the natural grass for artificial sports areas made that companies like yours have had to extend its range of offerings?
We had in mind the evolution of the artificial turf since the end of the 1990s, especially in its sports application. In this sense, our range of machinery and accessories for the maintenance of artificial turf surfaces is the most comprehensive market and meets the needs of the most demanding professional with more than and absolute reliability. As you know, the maintenance of such surfaces has five distinct tasks. Leaving aside the irrigation, although it is the first task is not analysed at the moment, we have four very important: brushing, sweeping, the descompactado and the replacement of sand and rubber on the ground.
Anyway, since Riversa we also work to spread the benefits of the living Prairie, not only aesthetic level but at the level of authentic regeneradoras of oxygen, cleaning of atmosphere and pollution.
What have been the latest Riversa additions to its range of machinery for the maintenance of grass?
If we speak of municipal maintenance, one could speak of the new generation of mowers 'Zero turn', be it for work of foot as a sitting. The 'GranStand' is a unique machine, the perfect combination between a spin zero and a platform of mowing. It has 122 centimeters wide of court and a capacity of 19 Hp. It is a good machine to work in mixed areas of plain and slope.
The G3 Master Z have been designed to offer maximum performance to the user in areas that turn conventional zero machines have more difficulties, as the slopes. Thanks to its design more bandwidth and his low centre of gravity, offer a much better performance in moderate slopes. There are three models: 22 HP, 25 Hp and 29 Hp, that combined his work (from 122 to 152 cm.) wide make a highly productive machine.

Mower Z Master G3 (at left) and lawn mower of giro zero Grand Stand (on the right).
But the real novelty this year is the 360 GroundMaster, a machine of giro zero operated steering wheel allowing not only rotate on its axis, but including the 'quad-steer' technology takes the four wheels, improving traction and allowing you to work in locations with significant slopes. A case of mowing of 183 cm and 36 horses diesel engine is our machine base for large tracts of Prairie.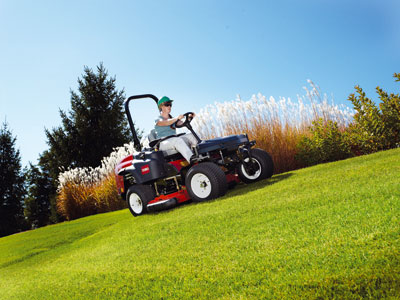 GroundMaster 360, mower technology 'quad-steer'.
Riversa has Toro, a brand of reference in machinery for professional maintenance of golf courses and parks. What are the most important contracts which has been able to close Riversa and Toro in recent years?
There are many examples. On playing fields we are lucky to be suppliers of equipment of the majority of clubs in first Division, which include Real Madrid, FC Barcelona, Valencia, Villareal, etc... If we are talking about golf, important references could be Valderrama, PGA Catalunya, La Dehesa, GCR El Prat, La Serena, Valdecañas, Cortesín, Abama, El Encino, Los Angeles de San Rafael, Artxanda, La Coruña…, might I be so throughout the day.
And what cities you can see machines Bull working?
Therefore in Zaragoza (Plaza Logistics Park), Burgos, Alicante, Logroño, Santa Cruz de Tenerife, Castellón, Mallorca, La Laguna, Zamora, Salamanca, Murcia, Sevilla, Mostoles, Madrid, in the Parque Juan Carlos I, etc. We are lucky to have a machine that meets the needs of the professional maintenance and municipal government teams, very productive and more environmentally friendly than the rest of the market machinery to perfection. Therefore, it is very appreciated and many municipalities have it to take care of the parks and gardens in their respective cities.