This news article was originally written in Spanish. It has been automatically translated for your convenience. Reasonable efforts have been made to provide an accurate translation, however, no automated translation is perfect nor is it intended to replace a human translator. The original article in Spanish can be viewed at
Se inaugura en Vitoria la temporada del queso Idiazabal
It inaugurates in Vitoria the season of the cheese Idiazabal
24 April 2012
Iñaki Landa, the one who was Celedón –character that with his arrival, going down of the sky with an umbrella, opens the parties patronales of Vitoria-gasteiz– during the period 1980-2000, inaugurated yesterday 23 April the season of the cheese D. Or. Idiazabal, in gasteiz, in the Eroski of the Boulevard. The act, organised by the Regulatory Council of the D. Or. Idiazabal And the association Lur-Lan Baserritar Elkartea, served to know better the new product, that to say of the present experts has "wood of champion", and that inside two months "will be exceptional".
With the help of José Mari Ustarroz, president of the Regulatory Council of the D. Or. Idiazabal, Landa cut this first cheese, that could be tasted by all the assistants to the act. Ustarroz Realised a cata of the product, of the that ensured has "a spicy point in mouth, but without amargor, and with clean aroma", characteristics that did him describe it like "a formidable cheese, that still will have more personality inside 60 days".
The director of Innovation and Alimentary Industries of the Basque Government, Amaia Barrena, congratulated to the D. Or. Idiazabal By his afán to attain a greater competitiveness. At the same time, it promised that his department "will be behind all the projects of commercialisation that set up". Likewise, it added that they are conscious that after the cheese "there is a lot of effort of the shepherds, even all a culture", to the time that praised the efforts of the sector for "adapting to the exigencias of the market".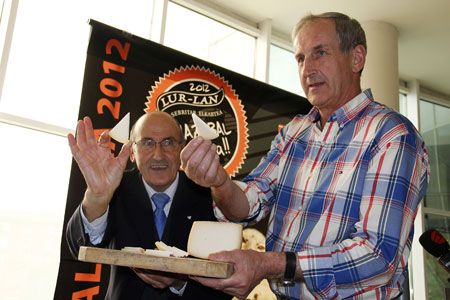 From Lur-Lan Baserritar Elkartea, cream association to favour the commercialisation of the products elaborated in Basque Country, Esteban Sanz of Samaniego announced that in the next months will carry out other initiatives to promote that the consumers appreciate the quality of the cheese D. Or. Idiazabal And know his a lot of varieties.
By his part, José Mari Mere, director of external relations of Eroski, stood out that his group "has the open doors" for all the initiatives of commercialisation that undertake the D. Or. Idiazabal. According to the data that contributed, Eroski sold in a month, during the promotion of the past year, 12.000 kilos of cheese D. Or. Idiazabal In Euskadi and Navarra.