Born the Inycom of the University of Zaragoza Chair for the promotion of innovation, technology and quality
March 12, 2010
Inycom
has done for Endesa Network Factory project of r & d that allows to increase the capacity of transport of electricity on the high voltage network. The project scene, which has been developed jointly with the Joint University Institute of research of the University of Zaragoza (Circe) enables the monitoring of high voltage lines from the center of control of Endesa in Barcelona, with the aim of maximizing its ability to transport of electricity doing dynamic limits of operation based on meteorological variables.
Scene also controls the height of the cable from the line of high tension on the ground is greater than the height of security. This elevation may vary depending on the dilation of the driver with the temperature of the same, which is a function of the intensity that flows and temperature. Inycom has implemented the software and firmware of the project, as well as of field communication with sensors. The algorithms have been developed by Circe and programmed by Inycom.
This project is just one example of the joint work that the University of Zaragoza and the Inycom company have been doing for more than twenty-five years in the field of r & d, especially focusing on the areas of information technologies and communicationsAnalytics, electronics and medicine. This continued collaboration was sealed in the auditorium with the signing of the Inycom Chair at the University of Zaragoza. As a novelty, in the framework of the newly created Chair and as well as other initiatives, is boosting research in electrical systems to evolve the Circe-Inycom joint technology, fundamentally-oriented r & d for renewable energy sources.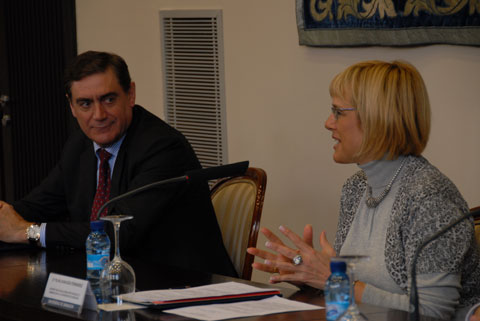 Act of presentation of the new Chair Inycom-Universidad de Zaragoza.
Related Companies or Entities
Instrumentación y Componentes, S.A.