This news article was originally written in Spanish. It has been automatically translated for your convenience. Reasonable efforts have been made to provide an accurate translation, however, no automated translation is perfect nor is it intended to replace a human translator. The original article in Spanish can be viewed at
Madrid será la sede de la próxima edición de EasyFairs Restauración Moderna
Madrid will host the next edition of EasyFairs restoration modern
May 10, 2010
EasyFairs restoration modern, lounge of the local urban food, Catering and Vending, will be held on 16 and 17 of February of next year, the 2 Pavilion of Ifema - Feria de Madrid. The contest is aimed at those professionals the latest restoration that require solutions and developments in food quickly and beverages, equipment and machinery, vending, dishes and tableware, cleaning, textiles, furniture and decoration, with special emphasis on the power of 4th and 5th range. Also, the concept of trade shows EasyFairs will relocate to the catering industry. It basically consists of commercial platforms that increases the network of contacts, in just two days, the professionals of the major chains and franchises of food, catering services, communities, managers of cafés, ice-cream parlours, bars and other establishments of urban food. It is the only event with these characteristics to be held in Madrid, which concentrates 25% of the main modern restoration chains and city which invoice 80% of this market segment.
For this Edition, be predicts a good balance in terms of participation and assistance, that within the EasyFairs group other countries such as Colombia, Finland, Norway, Netherlands, Poland and Sweden are receiving a good reception in their halls of restoration. In Spain, this concept of Hall is an example in EasyFairs Packaging & Labelling Innovations and easyFairs Empack, already prepared the fourth edition of each for the coming year. A hundred of exhibitors displayed the latest trends in: food and beverages, equipment and small machinery, vending and self service, services for the catering, crockery, household goods and products of a single use, laundry, cleaning, textiles and uniforms, furniture and decoration, refrigerating equipment, food packaging, technology and information management, security, control and management, among others.
EasyFairs restoration modern will convene a group of professionals: Directors of purchasing and r & d of chains and franchises of food; distributors and agents of food, beverages and equipment; managers and chefs from restaurants, cafés and bars; managers of establishments of fast food, 24-hour stores, service areas and airports and heads of purchase of large areas, to name a few. Attendees may participate in further demonstrations and tasting activities. They may also attend a dual cycle of independent seminars 'learnshops free' to address specialized presentations, case studies of success and the latest developments in the restoration of well-known professionals of the sector.  From the Organization, is expected to exceed 3,000 professionals, national and international visitors.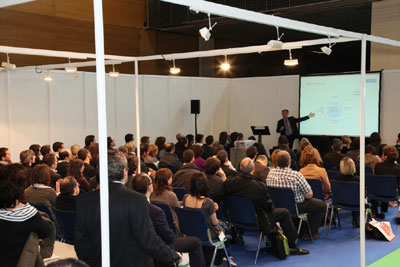 The presentations of the EasyFairs events gather a good number of professionals.
Related Companies or Entities