This news article was originally written in Spanish. It has been automatically translated for your convenience. Reasonable efforts have been made to provide an accurate translation, however, no automated translation is perfect nor is it intended to replace a human translator. The original article in Spanish can be viewed at
Domino lleva sus equipos i-Tech a la feria Ipack-Ima
I dominate it carries his equipment i-Tech to the fair Ipack-Ima
20 February 2012
In his stand of Ipack-Ima (of 28 February to 3 March, in Milan) Dominate will show the capacities of coficiación laser of the Series D, composed of equipment ultracompactos with the last in intelligent technology (i-Tech). The reduction of costs of maintenance, the increase of efficiency and the ease of integration and use are some of the characteristics of the equipment i-Tech.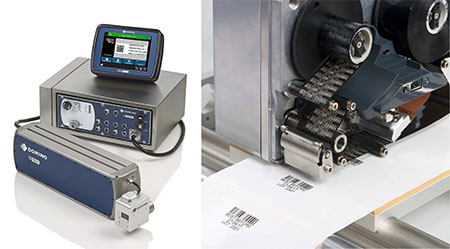 To the left, I Dominate Series D. To the right, detail of a team of the Series V.
The international company of global solutions of coding and labeling also will exhibit in the Italian fair of the packaging and affine industries his equipment inkjet of the Series To, the inket thermal sensors of the Series G, the series M of impressesion and application of labels and the series V of new printers by thermal sensors transfer. All these equipment are able to cover the needs of sectors so demanding like the chemist, the alimentary, the one of beverages or the industrial.
Related Companies or Entities