This news article was originally written in Spanish. It has been automatically translated for your convenience. Reasonable efforts have been made to provide an accurate translation, however, no automated translation is perfect nor is it intended to replace a human translator. The original article in Spanish can be viewed at
Arranca la décima edición de El Mes del Congelado
It starts the tenth edition of The Month of the Frozen products
5 March 2012
With the beginning of the month of March, begins the tenth edition of The Month of the Frozen products; a pioneering –initiative in Spain and coordinated by
AECOC
, the Association of manufacturers and distributors that groups to near of 25.000 companies–, that in this occasion will have the participation of the main Spanish distributors.
From his launching in the year 2003, The Month of the Frozen products concentrates each month of March a series of activities headed to the diffusion of the virtues of the foods frozen products packagings. Like this, these products earn a special leadership during this month in the points of sale, that to his time are rewarded by his efforts of diffusion. Equally, the Platform of the Frozen products –impulsora of the project– takes advantage of this month to organise a meeting with the companies of the sector in which it analyses his evolution.
In this occasion, The Month of the Frozen products will be present in the Alimentary Living room, where will give to know the last data of consumption of foods frozen products packagings and will show 'the linear of frozen products of the future', that the assistants will be able to visit in the zone of exhibitions.
Likewise, will take advantage of this frame to do delivery of the Prizes 2011 of The Platform of the Frozen products and will summon the new edition of these recognitions, that will reward the efforts of the distributors in the categories of 'Better decoration and exhibition of the linear'; 'Better campaign of communication' and 'promotional Action more original'.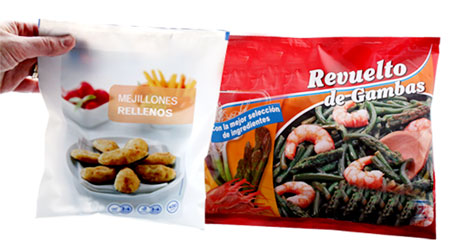 From his creation in the year 2003 with the aim to improve the perception that the consumers have of the products frozen products, the Month of the Frozen products has consolidated like referent for the dinamización of the sector. With the step of the time and fruit of a narrow and continued collaboration between manufacturers and distributors, the campaign has gone increasing his importance until materialising in the Platform of the Frozen products. An initiative that, promoted by the main manufacturers of foods frozen products packagings of the country –Elvers Aguinaga, Berlys, Dr. Oetker, Findus, Nestlé, Pescanova, Salica and Unilever– works along all the year with the end to do grow this professional sector.
With the aim to improve the experience of purchase of the consumer in the point of sale, from The Platform of the frozen products and in collaboration with Koxka, Videotronic and Ovelar Merchandising, from the month of March and during three months, go to set up the realisation of five pilot proofs in Simply, Caprabo, The Tree, Consum and Eroski, where will implant new solutions and tools of marketing that contribute to that the consumers have an experience of purchase more pleasant in the section of frozen products. It pretends so it identify with greater ease and rapidity the section, as well as the different families of the products, improve the identification of the prices and the communication of the promotions, and provide qualitative information.