The export is more than half of the production of oil in Spain
Spanish olive oil seeks greater international recognition in Olivaria
Olivaria is the hall dedicated food considered "liquid gold" so that the main producing areas and appellations of origin are promoted and presented olive Excellencies. Around of 100 companies participate in the Salon of olive oil and vegetable oils containing the good and best for a sector where Spain, still a world leader in export, claimed a more prominent role.
The living room to food 2010 dedicated olive oils and vegetable oils returns with more force than ever before. The olive-growing industry of the country is one of the great powers at the international level and Olivaria is a true reflection of this, in the nearly 1,800 m2 dedicated the show to one of the most appreciated elements of Spanish gastronomy. A wide range that can be found in Hall 8.1., with quality products, appreciated on all five continents, and generated a value of brand at the country level.
Olivaria 2010 also has space for the new features, and is that the oil sector committed to innovation, especially in flavours and formats. Thus, the Hall presents from olive oil spray to tastes and aromas of all kinds.
Currently, Spain has a score of DDOO - from the more veterans, as the extra Andalusian magic Sierra, Sierra de Cazorla or the Siurana and Les Garrigues Catalan to the newest as La Rioja, the steppe or Madrid - and more than 1,000 brands of Virgin olive oils of high quality and diversity.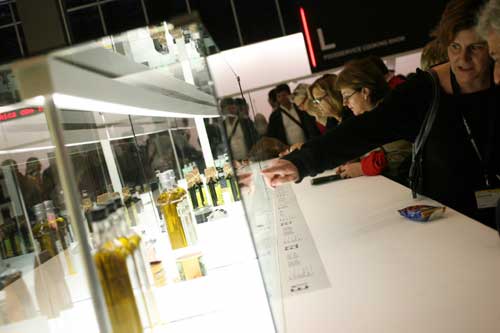 Store of the future in the 2008 Edition.
To the Chairman of Borges and Olivaria, Josep Pont, the celebration of food "provides companies a unique opportunity at the same time, allows to know the trends in the sector to be able to know the latest news, in addition". In this regard, "I think that it is a golden opportunity to take a real pulse of the market," notes Pont.
Olivaria has outstanding companies and cooperatives in the country. Hojiblanca olive cultivation, oils del Sur-Coosur, Oleoestepa, the Montes de Toledo D.O.P, oils Urzante, Agrolés, Mallafré, international pull or the territorial interests of Catalonia, or especially the region of Andalusia who comes with 400 m2 of exhibition which presents products of the entire autonomous community, absolute leader in the country.
Importance Spanish oil sector
Spain is a world leader in production, marketing and exporting of olive oils, with a market average around 1.2 million tonnes per year in the latest campaigns, divided 50/50 between the domestic market and abroad.
Account with 2,500,000 h of olive grove, the largest in the world, and also with the highest number of olive trees: 300 million. In addition, Spain concentrated 50% of European production and 35% of the world, leading the export to more than 100 countries.
Data of interest
Spain is not only the world's largest producer of olive oil, with an average production of 800,000 tonnes a year, but it exported an average of between 300,000 and 600,000 tonnes to more than 100 countries on five continents. (Source: Oleo)
The volume of sales of olive oil in Spain during 2008 reached 333,5 million kilograms, worth 965 million euros. Of the total, sales of packaging reached 120 million kilos in size and 465 million euros in value. (Source: Asoliva)
The export is more than half of the oil production of Spain, encrypted in 1.236 million kilogrammes. Italy is the main destination of exports of oil in bulk with 45.2%, a rate relatively low if one considers that for a decade exceeded 80%. This
decline is due to the work of diversification of markets which are Spanish companies to emerging countries such as United States or Japan. (Source: Asoliva)
Between 2003 and 2008 sales abroad of the sector increased by 47.4% in value, from 1,241 million euros to the 1.830 million. In addition to maintaining leadership in traditional markets such as Italy, France, Australia, United States, Portugal or United Kingdom with regard to export of packaging or bulk olive oil, currently 15 of the 50 main recipients are Asian countriesemphasizing as main markets China, Japan, Korea of the southern Philippines, the India and Bahrain. (Source: Oleo)
Powers of Asia such as China, Korea of the South and Bahrain are as a main supplier of olive oil to Spain, which exceeds Italy, its big competitor in the international market. (Source: Oleo)
USA, Australia, Brazil, Canada and Japan added 391.000 tons of olive oil consumption. United States is the main world market of a country's consumption not producer until reaching the 251.000 tons. (Source: IOC).
According to a recent study that compares the consumption of olive oil in France and United Kingdom with the Spain, noting that consumers in these countries are willing to pay a higher price for oil of olive that Spanish buyers. (Source: MARM)
Sale on Japan of olive oil Virgin extra for organic production was increased in 2008 a 16.7% over the previous campaign. (Source: CCAE)