This news article was originally written in Spanish. It has been automatically translated for your convenience. Reasonable efforts have been made to provide an accurate translation, however, no automated translation is perfect nor is it intended to replace a human translator. The original article in Spanish can be viewed at
J.R.A. Maquinaria, distribuidor oficial de Bobcat para el País Vasco
J.R.To. Machinery, official distributor of Bobcat for the Basque Country
6 February 2012
From the month of January, the company J.R.To. Machinery, has been appointed official distributor of the products Bobcat in replacement of the ancient dealer To. Santamaría for the Basque Country. J.R.To. Machinery is a skilled company in compact equipment; mini loaders, miniexcavators and manipuladores telescopic, with presence in the sector of the construction, public work, paisajismo, agriculture, livestock, city councils and the industry. Linked to the signature Bobcat from does more than 20 years, possesses the representation of said mark in several zones of Spain: Aragon, Navarra, The Rioja, Soria, Guadalajara, Ciudad Real, Cuenca and Albacete. With some installations that surpass the 10.000 m2, has of 5 workshops, 5 warehouses and 12 trucks workshop to attend any failure on foot of work, avoiding unemployed prolonged, travel and offering the guarantee of repair in minimum terms of time.
J.R.To. Machinery has of a central headquarters situated in Saragossa and four delegations in Navarra, Guadalajara, Ciudad Real and Albacete. A wide experience avala the knowledge so much of the products Bobcat, as of the market and of the needs of each one of the customers. Regarding the organisation for the Basque Country, the customers Bobcat have to his disposal two skilled technicians with his mobile workshops and all the logistics of spare parts of J.R.To Machinery for the best standards of service to his customers.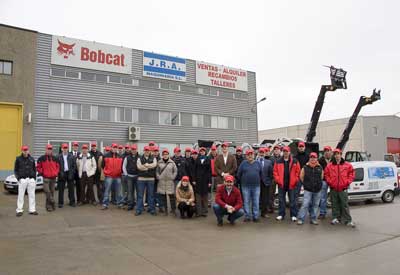 All the staff of J.R.To Machinery.
Related Companies or Entities