This news article was originally written in Spanish. It has been automatically translated for your convenience. Reasonable efforts have been made to provide an accurate translation, however, no automated translation is perfect nor is it intended to replace a human translator. The original article in Spanish can be viewed at
Premiado un innovador sistema hidráulico para aerogeneradores eólicos
Rewarded an innovative hydraulics system for aerogeneradores wind
29 May 2012
Urtzi Guruziaga, recently titled in Industrial Engineering, has contrived an innovative hydraulics system for aerogeneradores wind that it could revolutionise the design of the mills that convert the strength of the wind in electrical power. For the moment, his work has been already recognised with the Prize Accenture to the Best Project End of Career of the Upper Technical School of Engineering of Bilbao. The prize has delivered in the Classroom of Degrees of the School, with the assistance of Xabier Ibáñez, partner of Accenture; and of the director of the School, Enrique Amezua, between other personalities of the academic field.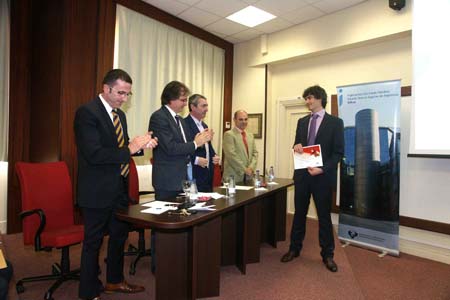 Delivery of the Prize Accenture to the Best Project End of Career of the Upper Technical School of Engineering of Bilbao.
Urtzi Guruziaga Has developed a presentation of his project and has signalled that the main innovation entered in this project is the change of philosophy regarding the transmission of power, "since it replaces the conventional mechanics by the hydraulics like method of transmission of the power". The transformation carries out first through a hydraulics bomb, and later with a hydraulics engine. This system achieves a considerable reduction of the weight of the gondola (that it can reach 50%) by the elimination, replacement or transfer of some elements (multiplicadora, asynchronous generator, transformer) to an emplazamiento to height zero.
One of the main advantages of this new concept of aerogenerador would be the one to facilitate and abaratar the works of maintenance of the wind mills, avoiding the problems derived of a very heavy structure emplazada to big height and reducing the costs by failure or unemployed. Other additional advantages would be a more precise modulation of the speed of the rotor, and the possibility of storage of power through a hydraulics accumulator, in addition to the possibility to obtain a very high performance to partial loads.
Also simplifies the electrical system of the tower, and opens the possibility to install a network of pipes centralised for a conjoint operation of the whole of the circuits oil-hydraulics of all the aerogeneradores in a same wind park. By the contrary, the main disadvantage resides in a lower performance of the team by the need to transform the mechanical power in hydraulics and later realise the reverse transformation.
This 'Study of an adaptative hydraulics system of transmission of power for aerogeneradores', work of Urtzi Guruziaga, has had the supervision of Gustavo To. Esteban like professor speaker and of Ana I. Portilla Like professor of chair.