This news article was originally written in Spanish. It has been automatically translated for your convenience. Reasonable efforts have been made to provide an accurate translation, however, no automated translation is perfect nor is it intended to replace a human translator. The original article in Spanish can be viewed at
Todo es grande en América: SolidWorks World 2011
Today Sunday is celebrated the ceremony of welcome to the event of the world's largest CAD (probably).
Everything is big in America: SolidWorks World 2011
Joan Sánchez Sabé, from San Antonio, TX, USA
23/01/2011
on January 23, 2011
The first time that I put the feet in the United States, the first impression I had was that here everything is great. The streets are wide, cars are huge, the parking places, also. People have a particular tendency to be large; some, in vertical direction, others, by; the less fortunate, only in the horizontal and transversal, addresses with special greatness at medium altitude. The houses are spacious, many of them (great) garage and a large short (according to them small). The burgers are great. The coffee cups are large (the coffee... not necessarily). The beds of the hotels are large (queen sizebed orking size). The shirts are large (L, XL, XXL, XXXL). Everything is great.
As well, if had always had the feeling that everything is big in America; in Texas (or Texas), everything is directly, enormous. Friends of SolidWorks have anticipated my owner in one of their
blogs
, describing the video screens.
SolidWorks World, in the 2011 Edition, takes place in Texas. Specifically, a city in name
Portuguese
(!)
: San Antonio. In 1961, which passed through there, the day of San Antonio (of Padua, Portuguese), they were not Portuguese and Spanish. They set up some possible missions, such as the Alamo (Mission of San Antonio de Valero, in its first incarnation). Surely, the only us sounds of this city.
The name of San Antonio was. And the city became (according to Wikipedia) the seventh largest in the country. It is not that many, many people, little more than a million and a half; there are but with 1,000 km2 of area, is almost twice as large as Madrid.Vista from the air, and at night, and despite the jet lag, the countless number of light dots that formed the city did not leave room for doubt: it's big.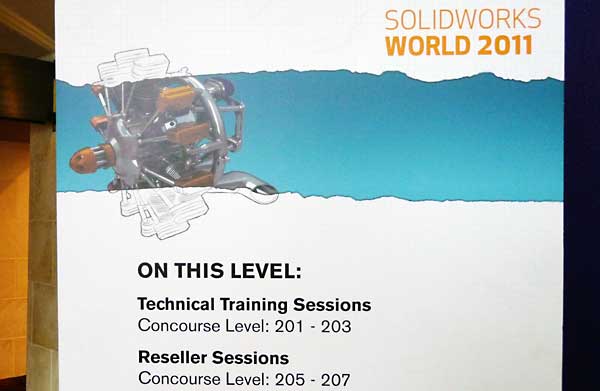 Everything is ready for that tomorrow the technical sessions will start.
SolidWorks World 2010 was great. The number of attendees (approximately 5,000) was spectacular. SolidWorks World 2011 looks to be bigger. The building where it is held, the Henry Gonzalez Convention Center, with an architecture that hints of the missions, is big (but not in the vertical direction).
Over the next few days them we will have size are things here, if they are really great, as it seems, or if the first impression was wrong.
Related Companies or Entities
Dassault Systèmes España, S.L. (Solidworks)