Weee-Forum Gathers to the SIG of waste of electrical devices and electronic Europeans
30 November 2011
During the days 24 and 25 November, Spain and in concrete the city of Málaga, have been the headquarters and host of two days of the Weee-Forum, the European Association of Systems of Management of Waste of Electrical and Electronic Devices (Raee). The aim has been to build a platform from which all these organisations can put in common his ideas and efforts to attain put in practice the measures that make possible the optimum operation for the management of the Raee in Europe.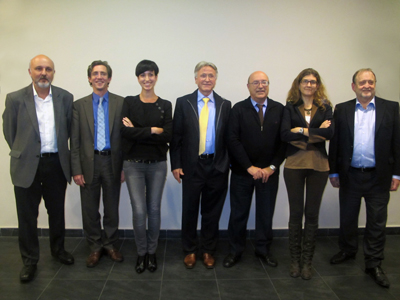 The president of Weee-Forum, Andreas Röthlisberger (in the centre of the image), flanqueado by several representatives of the SIG Spanish of electrical and electronic devices that have attended to this announcement.
In total, the meeting of Weee-Forum has had 44 of the maximum European exponents in the world of the recycling of the Raee. In her, they have been present the president and the general secretary of Weee-Forum, Andreas Röthlisberger, and Pascal Leroy, respectively; by Spanish part, have participated representatives of Ecolec, Ecotic, Echo-Raee and Ametic (all they integrated systems of Spanish management of electrical and electronic devices that form part of this association) and the Canarian Foundation Recycles (still no adhered), and a nourished presence of his homologous Europeans.
Weee-Forum Created in 2002 like a non-profit association that groups at present to 38 integrated systems of management (SIG) of waste of electrical and electronic devices of 24 countries of Europe. The sum of the activities of his members represents roughly the two third parts of the Raee collected in the Old Continent.
Related Companies or Entities