This news article was originally written in Spanish. It has been automatically translated for your convenience. Reasonable efforts have been made to provide an accurate translation, however, no automated translation is perfect nor is it intended to replace a human translator. The original article in Spanish can be viewed at
Fedit edita una nueva serie de folletos sectoriales
Fedit publishes a new series of sectoral booklets
December 22, 2009
Fedit has developed during the year 2009 a series of five sectoral booklets on construction, renewable energy, metal, health and quality of life and transport and logistics. It's a new series of booklets giving continuity to the one released last year and included agri-food, automotive, chemical, textile and ICT sectors.
Brochures, as well as developing a presentation of each economic sector, analyses the contribution that carried out the Fedit technology centers to facilitate the promotion of each of these sectors. Also reflected the importance of r & d in each of the sectors and, consequently, extols the work of the technological centres in this regard. The choice of sectors for this second edition has been driven by the direct involvement of the Fedit technology centers. Together with its proposals, also had taken into account if each sector has its own Industrial Observatory, the amount of existing information and the number of technological centres related to the sector.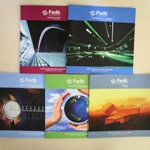 Intending to get to the international audience the sectoral booklets have been developed both in English and Spanish, and thus expand the number of possible recipients, as it was already done in 2008. The intention of Fedit passes to distribute these brochures all the associated technological centres and a selection of (national and international) companies in each sector, prescribers and opinion leaders. Also there will be a distribution of the same in trade fairs and other events in which participate the Federation or any of its members and which are related to the sectors they represent.
This second edition of 'Sectoral booklets', has been supported by Icex, as well as the first, since that is framed within the Fedit-Icex Sectorial Plan whose main objective is based on the internationalization of technology centres and their consolidation as reference points in r & d.
Sectorial brochures are available on the website of the Federation (http://www.fedit.com/Spanish/Paginas/FolletosSectoriales.aspx).
Related Companies or Entities
Federación española de entidades de innovación y tecnología (Fedit)