This news article was originally written in Spanish. It has been automatically translated for your convenience. Reasonable efforts have been made to provide an accurate translation, however, no automated translation is perfect nor is it intended to replace a human translator. The original article in Spanish can be viewed at
¿Le recorto las patillas?
Him recorto the arms?
Ibon Linacisoro. Director of Interempresas
03/06/2010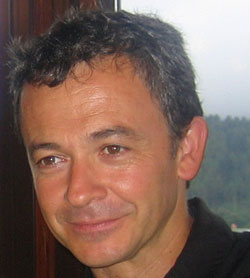 3 June 2010
Before, they asked. It was a classic in the barbershop or hair salon for men. Will I cut the PIN? The response, the truth, was difficult to avoid. And then with what I'm? But as there is no respect for anything by anyone, nor age, nor by antiquity, even by officials, servants of the State, or by nothing at all, now cut you to one without previous question. Before one pins them were to his liking. Now one would change the diminutive and put legs on the street. Or will they cut.
That one you cut also has its positive effects, especially if the job is fine, but, above all, if the character outlined in question actually need this slimming effect, if they can spare you meats on the sides. It is not acceptable, on the other hand, cut the silhouette to to, for any reasons that life has given you, show a bony and squalid type which already hardly can cut more. It is not the same, in short, scratching a little side Bacon to the well-off official who try to drive the tooth to the bony pensioner. It is not the same, not what metamos everything into one pot. It is like cutting the pins to Kojak and not to play at El Fary.
Many will agree that should be cut. Especially Merkel and Obama, who sent us to the hairdresser. But once there, all the weight of responsibility was Barber. I had to apply the scissors with tino, know when to use scissors and when the winch electric, decide if the PIN flush's ear, a bit below or a little more above. Had one of his worst days the Barber and face decisions that would have never imagined. But he finished the work and the customer, once in the street, received all kinds of comments. That if you are well, if you've spent with the sideburns, to how long, to which cortas… We already know that tastes nothing is written. The fact is that, like or not with its new 'look', the patient carrier of the pins facing his new stage with less weight on his head. Hopefully it will serve to address the months of heat and know properly equip within months of cold weather. To make maintenance of their PIN regularly to not deal with a new cut and, above all, to find rightly a suitable hairdresser if you need another squeeze, because if they leave us without sideburns, what we are?