This news article was originally written in Spanish. It has been automatically translated for your convenience. Reasonable efforts have been made to provide an accurate translation, however, no automated translation is perfect nor is it intended to replace a human translator. The original article in Spanish can be viewed at
Rubi-Germans Boada cumple 60 años en Construmat 2011
Rubi-Germans Boada celebrates 60 years in Construmat 2011
June 14, 2011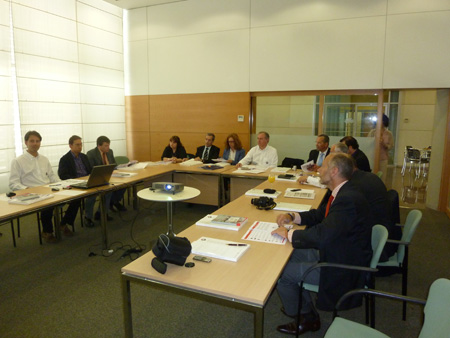 Rubi-Germans Boada presented at press conference their latest in Construmat 2011.
See and try. That is the philosophy of Ruby-Germans Boada when designing a stand for a fair. As demonstrated in the last edition of Construmat 2011, where the company exhibited its machines and tools for the construction. "Our stands are made so that the client can test our products on-site," explained Daniel Pagés, director of Marketing, during the press conference offered by the company, who this year has reached its 60th anniversary, at the fair.
Jaume Caballé, commercial director of the firm, "the export volume allows us to better resist despite the fall in the Spain sector," explained during the presentation. With regard to the opening of the delegation of Brazil, Caballé acknowledged the difficulties from an administrative point of view. "We are putting all our efforts to open it and make it work". He also announced the creation of a new factory in Shanghai, which will make it possible to supply the Chinese market as the nearby Asian markets. In this sense, Daniel Pagés stressed the importance of "knowing that sector on the continent to offer what you need". For the company the fact that copied their products are concerned because it is unfair competition, not because they are directed to the same target audience. "They are going to the final public and us the professional", he explained.
Related Companies or Entities