The system Alsipercha of Encofrados Alsina, considered the best product at the Budma fair
February 11, 2010
On 20 January, the Organization of the international fair
Budma
, the most important fair in the construction in Poland, with some 1,350 exhibitors and more than 60,000 visitors recorded in this latest edition, awarded the gold medal for the best product at the show to the Alsipercha system, the company
Encofrados Alsina
.
This system allows the operator to perform safely the placement of boards, security fences, networking type horca, tabicas formwork and in general all situations relating to the installation of the formwork where there is risk of falls in height (higher plants)(, perimeter, etc.).
This important reference obtained in Budma joins the already received by other agencies and does not only endorse the success of this system which means a world novelty in concept of security in the works. Precisely, the CE mark is helping that, little by little, the Alsipercha system is becoming a standard of security for the building market.
This system and the rest of the range of products and services offered by Alsina customers will be showcased at booth Alsina will have on the next international exhibition Bauma 2010from 19 to 25 April in Munich.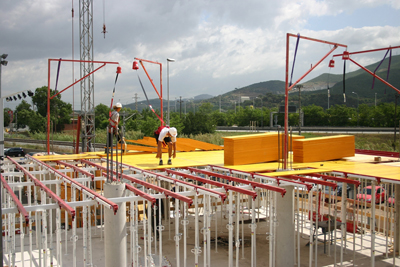 Demonstration of the Alsipercha, the company's system Encofrados Alsina.
Related Companies or Entities
Encofrados J. Alsina, S.A.