This news article was originally written in Spanish. It has been automatically translated for your convenience. Reasonable efforts have been made to provide an accurate translation, however, no automated translation is perfect nor is it intended to replace a human translator. The original article in Spanish can be viewed at
Se presenta en Venecia el equipo de motociclismo CAME Ioda Racing
It presents in Venecia the team of motorcycling CAME Ioda Racing
23 March 2012
Loda Racing, associated with
CAME
, has presented in the Casino of Venecia the team to the complete of the CAME Ioda Racing, the "Italian dream" of MotoGP, with Danilo Petrucci, and that will continue in Motorbike2 with Simone Corsi.
Petrucci Will pilot the new Iodaracing TR003, a machine whose chassis has been designed in the factory of Terni, whereas Corsi will have a FTR to try improvement his sixth place of the year happened in the intermediate category.
The team is at present in Jerez until the l 25 March to participate in the official essays of Motorbike2, Motorbike3 and MotoGP, the last before the start of the season 2012 in Catar.
Paolo Menuzzo, president Came Group SpA, signalled in this regard: "The idea to sponsor to the team resulted very interesting for our group because we always have worked in projects entirely Italian, as those that develop with our first automatic systems. I am proud to associate our name with a sport that shares the values of the technology, the innovation and the work in team".
By his part, Giampiero Sacchi, director Ioda Racing Project Srl, added: "Only a year and half after his foundation, Ioda Racing finds enrolado in the three categories of the Championship of the World, with two different projects that have set up. We confront us to a new challenge and go to find technical difficulties, but are very proud of the group led by Giovanni Sandi, Paolo Biasio and Roberto Papetti. I am safe that they go to develop some motorbikes of an excellent technological level".
Danilo Petrucci, pilot for the category of MotoGP, indicated: "I Am very happy to have the opportunity to debut in MotoGP with only 21 years, although it will be all a challenge with this new motorbike. I know that I can have the team, already has showed his strengths in the first test. We want to form part of the best CRT and will do all what is to our scope to attain good results the sooner possible".
Finally, Simone Corsi, pilot of Motorbike2, concluded: "This is my second year with the team and am very happy of my relation with my mechanics and with my FTR. It is a positive signal and am safe that this year we will be able to litigate by the world-wide title".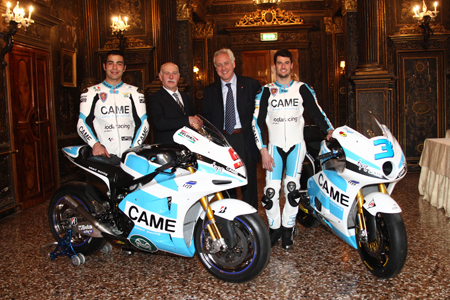 Presentation in the Casino of Venecia of the team CAME Ioda Racing.