This news article was originally written in Spanish. It has been automatically translated for your convenience. Reasonable efforts have been made to provide an accurate translation, however, no automated translation is perfect nor is it intended to replace a human translator. The original article in Spanish can be viewed at
Filtros para maquinaria pesada
Mann+Hummel recalls the importance of periodically review and warns of the consequences of not doing so
Filters for heavy machinery
September 7, 2011
The modern internal combustion engines for heavy applications require filtering techniques perfected original equipment quality. Construction machinery requires extremely resistant filters to work daily with effectiveness and efficiency. For this reason, since the phase development of filter systems, the first manufacturers of construction machinery give priority to the resistance of the filters.
According to the requirements of manufacturers of machinery, each revision of peacekeeping should take into account the original quality of the filter. This not only saves time but that it makes it possible to machine to conserve all its performance capacity until the next review.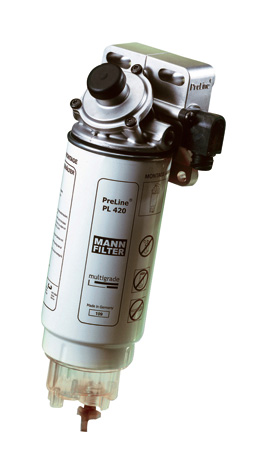 Pre-filter for diesel fuel of the Preline series.
Typical consequences of a postponed revision
In the case of air filters some of the consequences of postponing the corresponding periodic review may be the loss of power of the engine and an increase in the consumption of fuel or emissions. On the other hand, when an oil filter is obstructed opens a safety valve to ensure lubrication of the engine. The result: a poorly filtered oil causes wear in valves, bearings and components of the engine. The Prefilters and main fuel filters problems by not to make a regular review on time can manifest in the form of an increased wear of the injection system - at the pump, injectors and valves of pressure - due to poor separation of particles and water.
Passenger compartment filters the air filter is insufficient and they penetrate impurities, such as odoriferous substances, particles and pollen, in the driver's cabin, while in hydraulic filters, a poorly filtered oil causes wear on the hydraulic system.
Finally, postpone the revision of the filters in the crankcase ventilation systems can cause damage in the turbocharger and the intermediate cooler by the penetration of oil in the filter-clean side. In addition, you can reduce the power of the engine and increase fuel consumption by the decrease in the performance of the intermediate cooler turbocharger.
The Mann+Hummel company has more than 70 years dedicated to the development and production of filters for construction machinery and public works. Each year allocates approximately 4% its total turnover to research and development, a sector in which they work 700 employees around the world, committed to the concept of "innovative, cost effective and individualized products".
The product range Mann-Filter for this type of machinery includes:
• Air filters
• Oil filters
• Fuel filters
• Passenger compartment filters
• The crankcase ventilation systems
• Hydraulic filters
Related Companies or Entities
MANN+HUMMEL IBÉRICA, S.A.