This news article was originally written in Spanish. It has been automatically translated for your convenience. Reasonable efforts have been made to provide an accurate translation, however, no automated translation is perfect nor is it intended to replace a human translator. The original article in Spanish can be viewed at
Dakar acoge en marzo el I Salón de la Construcción y del Inmobiliario
Dakar welcomes in March the Hall I of the construction and real estate
February 26, 2010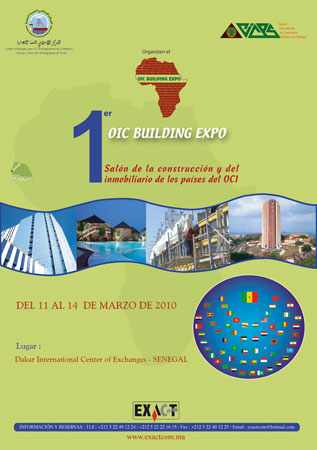 Poster for the fair.
Dakar (Senegal) will host the Hall I of the construction and real estate in the countries of the Organization of the Islamic Conference (OIC Building Expo). The event, to be held in the Senegalese capital between the 11 and March 14, 2010, there is the mission accompany the great expansion and development of the industry of construction and public works in the States members and other countries.
The OIC, intergovernmental organization comprising 57 countries, aims to combine their efforts and to negotiate as a group to safeguard the interests of their countries and to ensure the progress and well-being. Therefore, the grouping organizes this event, along with the International Centre for trade outside of Senegal (Cices), in collaboration with the company Exactcom.
This four day event aimed at professionals in the construction industry, will represent a genuine area of business and meeting between the real estate developers, manufacturers, architects and construction professionals. It is an opportunity to find out about the latest technological innovations in the sector.